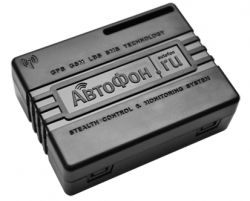 Visit the manufacturer website
Device 'AvtoFon Conversation-Beacon "is intended to determine the exact location of the object in which it is installed, and transmitting the coordinates of its owner via the GSM-network via a text message (SMS) and / or GPRS protocol selected by the monitoring server.
AvtoFon Dialogue Lighthouse built on a new hardware platform v.6.x, which will expand device functionality and improve performance. 
small size;
combined GLONASS + GPS navigation module with high location accuracy;
start motion sensors, stroke, accidents, coup body falling, with sensitivity and reactivating assignment interval;
Black box on 98 000 GPRS packet;
Built-in SOS-Micro button;
function Remote firmware upgrade via GPRS;
2 RF-tags with dialog code;
Relay bonnet lock;
RF relay Z, W;
board external power and extensions already included.
This information only is for informational purposes only, Plaspy does not have relationship with the device's manufacturer, for more information check the
manufacturer's website
or user manual.
Trackers
Use Plaspy with a tracker
Set the Operator APN
Check your tracker clock setup is set UTC-0 o GMT. (The most trackers come from the factory on UTC.)
For most devices you should use IMEI (International Mobile Equipment Identity) number as unique identifier. However, some devices have vendor specific unique identifier, for example TK-103 devices use 11-digit identifier.
Set Up the IP and port on your tracker: (automatic detect tracker's protocol.)

| | |
| --- | --- |
| Server | d.plaspy.com |
| IP | 54.85.159.138 |
| Port | 8888 |

Add on your Account on devices with the IMEI or unique ID.