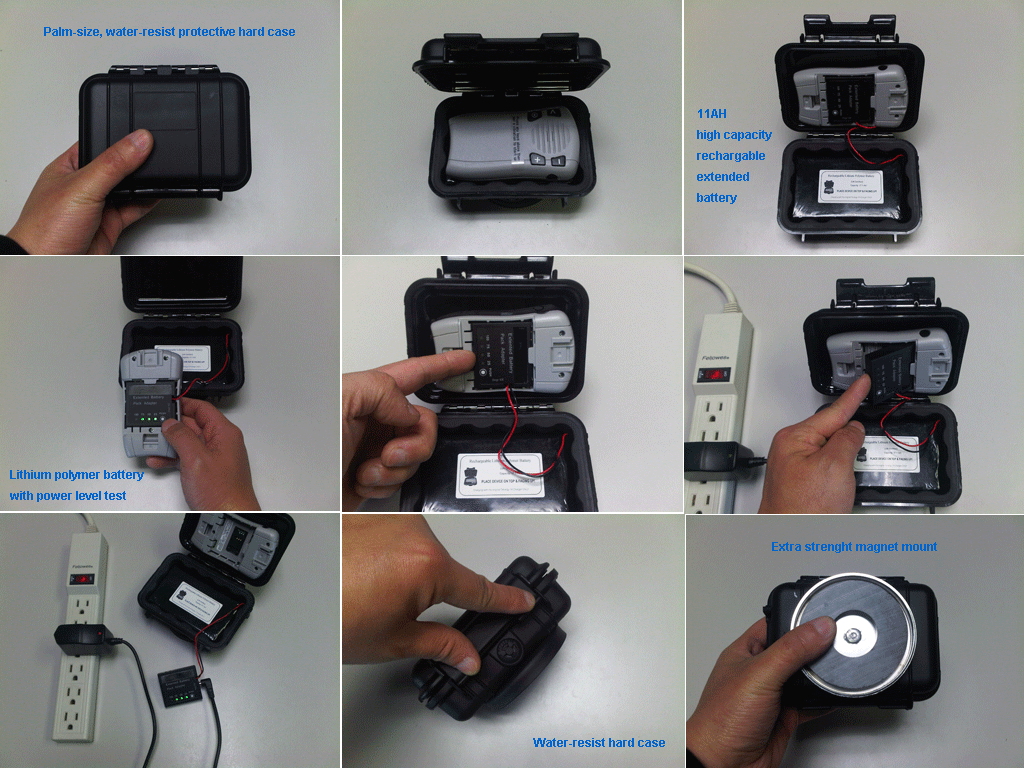 Visit the manufacturer website
The certified quad-band Mini MT is optimized for today's demanding mobile workforce and private citizens where location based safety, security and connectivity are paramount. Providing complete GSM/GPRS communications Novatel Wireless helps you track and monitor your workforce from the lone-worker to the operators of small fleets - and closer to home; the Alzheimer's patient, children, teenagers on the go and a host of other applications.
Next Generation Technology

Excellent GPS performance and sensitivity in a small, ruggedized voice enabled platform. The Mini MT is fully programmable with panic/emergency response button, two-way voice communications, messaging and much more. The units are designed to be easily deployed and provisioned supplying critical information for the most demanding workforce tracking applications. This device is designed with a motion sensor and vibrating alerts for personal and remote worker programs of all sizes.
Quad-band GSM/GPRS (850/900/1800/1900 MHz)
Motion sensor and vibrating alerts
Designed for personal/remote worker programs
FOTA (Firmware-Over-The-Air) enabled for remote upgrades
Rugged and voice enabled
Programmable with panic/emergency response button
Use Cases
Personal & Remote Worker Tracking
Emergency Response
Child & Teen Tracking
Elderly Locator
Mobile/Home Healthcare
This information only is for informational purposes only, Plaspy does not have relationship with the device's manufacturer, for more information check the
manufacturer's website
or user manual.
Set Up Mini MT
AT&F
AT&W
AT+CGDCONT=1,"IP","{{apn}}"
AT%CGPCO=1,"{{apnu}},{{apnp}}",0
AT$FRIEND=1,1,"54.85.159.138"
AT$UDPAPI=,8888
AT$WAKEUP=1,1
'Time report
AT$EVTIM4=60
AT$EVENT=9,1,12,1,1
AT$EVENT=9,3,40,2,28905678
AT$EVENT=9,3,60,2,28905678
'reporting by input 1
AT$EVENT=10,0,0,1,1
AT$EVENT=10,3,40,1,28905678
AT$EVENT=10,3,60,1,28905678
'reporting by input 2
AT$EVENT=12,0,1,1,1
AT$EVENT=12,3,40,4,28905678
AT$EVENT=12,3,60,4,28905678
'Battery Disconnect
AT$EVENT=14,0,3,0,0
AT$EVENT=14,3,40,6,28905678
AT$EVENT=14,3,60,6,28905678
'GPS antenna disconnection
AT$EVENT=15,0,71,2,3
AT$EVENT=15,3,40,7,28905678
'GPS antenna connection
AT$EVENT=16,0,71,1,1
AT$EVENT=16,3,40,16,28905678
'Battery Connection
AT$EVENT=17,0,3,1,1
AT$EVENT=17,3,40,17,28905678
AT$EVENT=17,3,60,22,28905678
'Ignition ON
AT$EVENT=37,0,7,1,1
AT$EVENT=37,3,40,2,28905678
'Ignition OFF
AT$EVENT=38,0,7,0,0
AT$EVENT=38,3,40,3,28905678
AT$AREG=2
AT&W
AT$RESET

Trackers