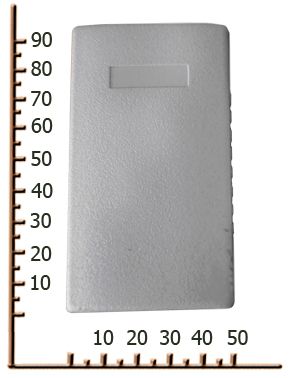 Visit the manufacturer website
AAP monitoring system "Personal" is the finished product of the company "OKB Tehnoavtomatika".
Power supply from internal battery allows you to control the location of objects that are far away from the power supply or do not have access to it, for example, the transported cargo is expected employee and.
Features of the device require the notification of the owner using the internet (GPRS), 
by means of sending an SMS to a specified number 
or monitoring by a service control center.
 SPECIFICATIONS
Device: Standalone search solution. GPS system
canal tie with DC - GSM 900/1800 
- sending / receiving data on the DC using GPRS; 
- sending / receiving data on the DC using SMS; 
- receiving from the subscriber's SMS-messages; 
- the transfer of subscriber SMS-messages. 
Determination of coordinates: 50-channel high sensitivity GPS-priemnk. Power is supplied by the internal battery. The device is intended for personal use. Application: Monitoring of goods, personnel, etc.

In standalone mode, the notification of the owner can be made ​​by sending an SMS to a specified number.

For corporate clients, our company offers the implementation of software and hardware complex for monitoring vehicles on favorable terms: the client part of the program free of charge, and the connection of devices to the server side is performed for a small fee.
This information only is for informational purposes only, Plaspy does not have relationship with the device's manufacturer, for more information check the
manufacturer's website
or user manual.
Trackers
Use Plaspy with a tracker
Set the Operator APN
Check your tracker clock setup is set UTC-0 o GMT. (The most trackers come from the factory on UTC.)
For most devices you should use IMEI (International Mobile Equipment Identity) number as unique identifier. However, some devices have vendor specific unique identifier, for example TK-103 devices use 11-digit identifier.
Set Up the IP and port on your tracker: (automatic detect tracker's protocol.)

| | |
| --- | --- |
| Server | d.plaspy.com |
| IP | 54.85.159.138 |
| Port | 8888 |

Add on your Account on devices with the IMEI or unique ID.