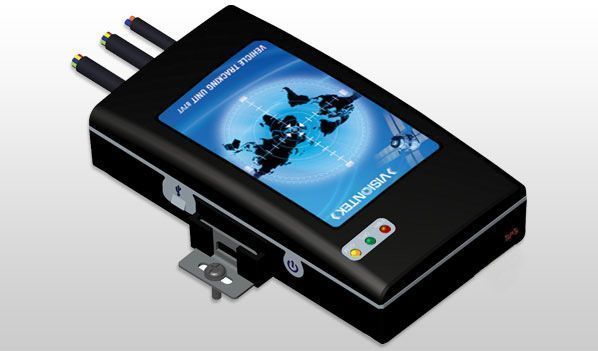 Visit the manufacturer website
VISIONTEK 87VTU Consists of powerful Built-in GPS receiver engine, Quad Band GSM Modem, New generation Micro processor, Inbuilt flash memory, USB Port, Hard RESET Button, Tamper switch, 3DMotion sensor, 3 LED indicators, internal battery, digital / anlaog inputs, deigital outputs ,Serial Port, 1-wire feature and Internal Battery.
Overview
VISIONTEK 87VTU Vehicle Tracking Unit consists of a Quad band GSM/GPRS modem and a powerful 48-Channel GPS receiver. The basic function of the Vehicle Tracking Unit is to acquire, monitor and transmit the position, Date,Time and direction data to server in the form of Packets or SMS.
VISIONTEK 87VTU is provided with USB Port for firmware uploading, device configuration and to capture the GSM / GPS logs. It has 3 LEDs (GSM. GPS and Power) to indicate the health status of the device. It is also provided with 3D Motion sensor to identify sleep/motion and to reduce data & Power consumption.
VISIONTEK 87VTU is having 4 digital inputs, 4 digital outputs , 2 Analog input (Voltage), 2 Analog input (Current), 1 Serial Port (RS 232) and 1-Wire (Temperature sensor).
ISIONTEK 87VTU is a More Advanced 'Vennalla Tracking Unit' which will give VehicleID, Device IMEI, Current date, Current Time, Location, Speed, Direction, Altitude, Cumulative Odometer, GSM and GPS Signal strength, GPS Fix status, etc.
Software features like Password protection, SIM Lock, Geofence, Sleep Mode, Fall Back SMS, Store and Forward (History data) , Track On Demand, OTA Commands and Remote Firmware Update makes 8705 VTU a powerful and most robost device for the application areas like Fleet Management, Ambulance Management, Taxi/Cabs, Logistics, Education institutions, Boats, Ships etc.
VISIONTEK 87VTU Comes with an IP65 plastic enclosure and equipped with Internal GSM and GPS antennas. For better performance, the device is also provided with provision for external GSM/GPS Antenna*.
Application Areas:
Fleet Management
Taxi Dispatch Syetem
School Bus Management
Logistics
Public Transport System
Delivery & Courier Srivces
Security & Emergency Vehicles
Work force Management
This information only is for informational purposes only, Plaspy does not have relationship with the device's manufacturer, for more information check the
manufacturer's website
or user manual.
Trackers
Use Plaspy with a tracker
Set the Operator APN
Check your tracker clock setup is set UTC-0 o GMT. (The most trackers come from the factory on UTC.)
For most devices you should use IMEI (International Mobile Equipment Identity) number as unique identifier. However, some devices have vendor specific unique identifier, for example TK-103 devices use 11-digit identifier.
Set Up the IP and port on your tracker: (automatic detect tracker's protocol.)

| | |
| --- | --- |
| Server | d.plaspy.com |
| IP | 54.85.159.138 |
| Port | 8888 |

Add on your Account on devices with the IMEI or unique ID.