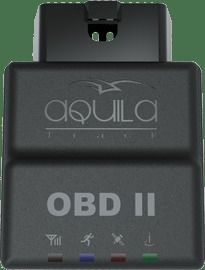 Visit the manufacturer website
On Board Diagnostics-OBD II
Motion Sensor - 3 Axis Accelerometer
CAN and K-Line Support for Vehicle Data Acquisition
ABS Plastic Casing
Internal GSM antenna
Internal GPS antenna
Motion Sensor - 3 Axis Accelerometer
Real Time Tracking
Sending acquired data via GPRS (TCP/IP protocols)
Smart algorithm of GPRS connections (GPRS traffic saving)
Power failure detection
Over the air configuration.
Small and Plug & Play
CAN and K-Line Support for Vehicle Data Acquisition
Bluetooth: BLE 4.1 (optional)
Superior automatic protocol detection algorithm
Can read both Standard and Manufacturer Specific Parameters
Vehicle battery voltage monitoring.
A GPS-GSM based Tracking and Monitoring System with OBD-II( Onboard Vehicle Diagnostics standards 2) interface, which adds remote diagnostics capabilities to our existing GPS Vehicle tracking platform. Along with vehicle tracking data, other vehicle-related parameters, and diagnostic information like Error codes, Real time speed, RPM, Fuel level, Real Time Odometer can be acquired through OBD-II interface and sent to server through GSM/GPRS for Processing. With Current OBD-II interface becoming standardized with all the vehicle manufacturers, this solution opens up an opportunity to offer a wide range of services & applications to users and huge business opportunity within in automobile ecosystem.
This information only is for informational purposes only, Plaspy does not have relationship with the device's manufacturer, for more information check the
manufacturer's website
or user manual.
Trackers
Use Plaspy with a tracker
Set the Operator APN
Check your tracker clock setup is set UTC-0 o GMT. (The most trackers come from the factory on UTC.)
For most devices you should use IMEI (International Mobile Equipment Identity) number as unique identifier. However, some devices have vendor specific unique identifier, for example TK-103 devices use 11-digit identifier.
Set Up the IP and port on your tracker: (automatic detect tracker's protocol.)

| | |
| --- | --- |
| Server | d.plaspy.com |
| IP | 54.85.159.138 |
| Port | 8888 |

Add on your Account on devices with the IMEI or unique ID.