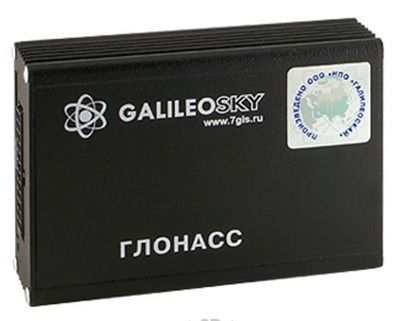 Visit the manufacturer website
GPS v1.8.5 GALILEOSKY - GPS-tracker, which makes it possible to determine the coordinates of a moving vehicle, saving the time data, the route and the sensors in the form of points with geographic coordinates, which are then transmitted to the server to handle the dispatch center.
GPS / GSM tracker GALILEOSKY GPS v1.8.5, installed on the vehicle reveals such serious violations of the operation, as a deviation from the specified route and non-combustible waste of a dedicated reserve. The result of the introduction of satellite tracking system is a significant reduction in costs to the organization at the expense of fuel economy, reduce the transport mileage and improve the overall level of labor discipline drivers. As a rule, GPS-tracker pays for itself within a few months.
In addition to tracking misuse of vehicles, GPS-tracker GALILEOSKY virtually eliminate the likelihood of vehicle theft. In the event of an emergency situation the driver can immediately send an alarm by pressing a special button. If the vehicle will still be stolen, then find it is not difficult, as tiny and inconspicuous GPS-tracker will regularly send location data.
Features
On-line monitoring (support continuous connection to the server), "Stealth mode" (access to the communication on the schedule), off-line monitoring (upload the saved file via USB);
Sending monitoring data simultaneously on two servers;
Customizable data transmission protocol that allows to save GPRS-traffic;
Ability to specify custom settings data roaming internationally (reduced costs for GPRS-traffic);
Data encryption;
Voice GSM-sided relationship with the driver manager;
Remote software upgrading device via GSM-network;
Configuration via SMS, GPRS, USB;
User-friendly and functional interface device settings via an application developed by us gps monitoring Configurator;
Can connect two cameras, setting up and continuous shooting event;
Sending images to the server via GPRS and save on microSD-cards;
The "Answering machine" to automatically declare a stop route of transportation;
An ideal portrayal of the track of a moving vehicle, even with a low level signal from the satellite;
Detailed drawing angles, no extra points on the straight sections of track;
The ability to connect the navigator Garmin;
Built-in non-volatile memory to store up to 58,000 points, and by using a microSD card up to 5 million pixels.
Ability to write archive data on movements on the microSD-card;
Determination of percussion and the tilt of the vehicle;
3 digital outputs for controlling external equipment;
Alarms and remote engine start;
4 universal inputs that can operate in the frequency, pulse, digital and analog modes;
2 RS-232 ports for connecting sensors Omnicomm LLS, camcorders, external GLONASS-top boxes;
1-Wire interface to identify the drivers and temperature measurement (up to 8 temperature sensors and 8 keys iButton);
CAN-interface (J1939, FMS, J1979, OBD II, 29-and 11-bit identifiers and) scanner and an integrated CAN-bus;
Two-level surge protection;
Vandal-proof housing made of metal;
Work offline to 48 hours.
Benefits
The high degree of reliability.
Individual quality control for each manufactured GPS-tracker.
The use of reliable and proven components.
Comprehensive testing in different climatic conditions.
Can be used on all types of vehicles.
This information only is for informational purposes only, Plaspy does not have relationship with the device's manufacturer, for more information check the
manufacturer's website
or user manual.
Trackers
Use Plaspy with a tracker
Set the Operator APN
Check your tracker clock setup is set UTC-0 o GMT. (The most trackers come from the factory on UTC.)
For most devices you should use IMEI (International Mobile Equipment Identity) number as unique identifier. However, some devices have vendor specific unique identifier, for example TK-103 devices use 11-digit identifier.
Set Up the IP and port on your tracker: (automatic detect tracker's protocol.)

| | |
| --- | --- |
| Server | d.plaspy.com |
| IP | 54.85.159.138 |
| Port | 8888 |

Add on your Account on devices with the IMEI or unique ID.