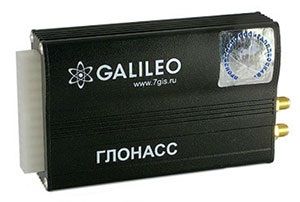 Visit the manufacturer website
GALILEOSKY GLONASS/GPS V2.2.8
GALILEOSKY GLONASS is a mass-produced multipurpose device for satellite monitoring of vehicles. Total control over all parameters of the vehicle.
GALILEOSKY GLONASS-tracker performs all same functions as the following package: GPS-tracker plus GLONASS-accessory, but compared with the package it has got a series of advantages:
GLONASS-module power supply is provided by the built-in battery
Reduced power consumption
Significant portability
The device is manufactured in accordance with the requirements of GOST R, has got GLONASS / GNSS-Forum Test Certificate. It can be used by equipping vehicles with GLONASS or GLONASS/GPS satellite navigation systems in accordance with the following regulations: Federal Law No. 22-FZ of February 14, 2009 On Navigation Activities; Russian Government Order No. 641 of August 25, 2008 issued in the city of Moscow On Equipping Vehicles, Technical Equipment and Systems with GLONASS or GLONASS/GPS Satellite Navigation Devices.
Characteristics
Average power input
1.6 W
ADC resolution
10 bits
Number of analog-digital and pulse-frequency inputs
4
Number of digital outputs
3
Digital interfaces
1-Wire, CAN, USB, 2xRS-232
Built-in battery
Li-Ion, 600 mA
GLONASS-module
MGGS2217
GSM-modem
GSM 900/1800
or GSM 850/900/1800/1900
Data transfer channel
GPRS/SMS
Aerial type (GLONASS, GSM)
external
Interface for communication with PC
USB 2.0
Internal memory
flash up to 58,000 pixels,
microSD up to 5,000,000 pixels
microSD
up to 32 GB
Supply voltage
10-30 V
Dimension
103.0 x 65.0 x 28.0 mm
Weight
300 g
Operating temperature range
-30...+60 °C
Extended temperature range
-40...+85 °C
Opportunities
On-line monitoring (support of continuous communication with the server), Stealth mode (time-bill communication), off-line monitoring (uploading of the saved archive via USB);
Opportunity of connecting two video cameras with continuous video recording and event video recording settings;
Perfect moving vehicle track drawing even in case of low satellite signal level;
Photos are sent to the server via GPRS and stored on the microSD card;
Connectivity to the Garmin navigator;
Two-way GSM voice communication between the driver and the dispatcher;
Monitoring data are sent to two servers at once;
Autoinformer function that allows to announce stops of public transport means automatically;
Opportunity to set special parameters of data transfer in international roaming (reduction of expenses for GPRS-traffic);
Alarm system and remote engine start;
Built-in non-volatile memory that allows to store up to 58,000 pixels and up to 5,000,000 pixels with the use of the micro-SD card; 
CAN-interface (J1939, FMS, J1979, OBD II, 29- and 11-bit identifier) and built-in CAN-bus scanner;
Remote upgrade of the device firmware via the GSM-network;
Adjustment via SMS, GPRS, USB;
Easy setting of the device by means of Configuration tool;
Detailed representation of angles without unnecessary points on direct track sections;
Identification of impact and tilt of the vehicle.
This information only is for informational purposes only, Plaspy does not have relationship with the device's manufacturer, for more information check the
manufacturer's website
or user manual.
Trackers
Use Plaspy with a tracker
Set the Operator APN
Check your tracker clock setup is set UTC-0 o GMT. (The most trackers come from the factory on UTC.)
For most devices you should use IMEI (International Mobile Equipment Identity) number as unique identifier. However, some devices have vendor specific unique identifier, for example TK-103 devices use 11-digit identifier.
Set Up the IP and port on your tracker: (automatic detect tracker's protocol.)

| | |
| --- | --- |
| Server | d.plaspy.com |
| IP | 54.85.159.138 |
| Port | 8888 |

Add on your Account on devices with the IMEI or unique ID.