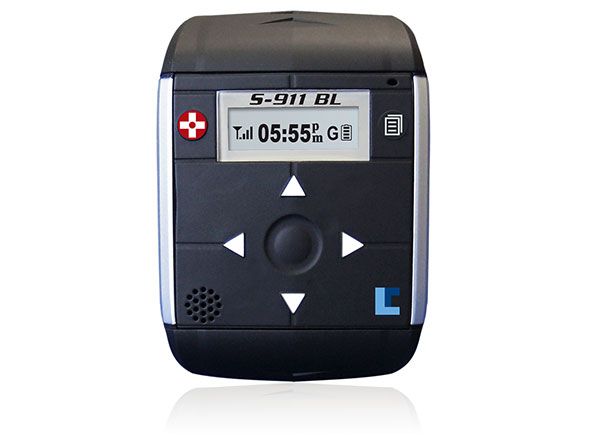 Visit the manufacturer website
Laipac S911 pulsera de localización ST se puede utilizar para proporcionar la ubicación de los delincuentes, las personas bajo arresto domiciliario o en libertad bajo fianza.
S911 pulsera de localización ST contiene receptor GPS de alta sensibilidad con la voz de 2 vías entre los delincuentes y los centros de monitoreo.
El S911 pulsera de localización ST presenta un botón de emergencia SOS, G-sensor para detectar caídas, retención dentro de geo-cerca y alerta de sabotaje.El localizador ST S911 pulsera ha sido diseñado específicamente para el Cumplimiento de la Ley. En tiempo real, el dispositivo puede señalar la localización exacta de la persona.
El S911 pulsera de localización ST viene con la banda de detección de manipulación. Una vez que se corta la banda o se abre el corchete, se le enviará una notificación. Si ocurre un delincuente para entrar o salir de una barrera geográfica predefinida, Seguimiento centros o funcionarios pueden recibir la verdadera alerta momento por correo electrónico, SMS o llamada telefónica.
Las aplicaciones sugeridas son: delincuentes de bajo riesgo, bajo arresto domiciliario, liberados bajo fianza, la violencia doméstica, Retener aplicaciones órdenes.
FEATURES:
GSM / GPRS para la cobertura en todo el mundo.
Pantalla LCD para la hora, el estado del GPS, GSM Estado y de nivel de batería.
receptor AGPS de alto rendimiento para la localización al aire libre y de interior *.
Construido en SPK y MIC.
puerto micro USB para la configuración y el poder de carga.
entorno geo-valla con alarma de entrada / salida.
banda de la muñeca de Seguridad.
Detección de manipulación.
Construido en registrador inteligente con miles de punto de referencia para registrar marca de tiempo, velocidad, posición y estado del evento.
3 axial acelerómetro para informar de impacto, accidente, choque, y cayendo.
actualizaciones de posición en tiempo real basado en el tiempo y los intervalos de distancia.
informe de kilometraje y el exceso de velocidad de alerta.
Directorio telefónico y función de marcación rápida.
IP67.
ESPECIFICACIONES:
Dimensiones 5,0 x 4,4 x 1,5 cm (área de la banda no incluido).
Peso 130 g.
Chavetero del bloqueo de seguridad.
Caja de regalo mide 123 (w) x 168 (h) x 86 (D) mm.
This information only is for informational purposes only, Plaspy does not have relationship with the device's manufacturer, for more information check the
manufacturer's website
or user manual.
Trackers
Use Plaspy with a tracker
Set the Operator APN
Check your tracker clock setup is set UTC-0 o GMT. (The most trackers come from the factory on UTC.)
For most devices you should use IMEI (International Mobile Equipment Identity) number as unique identifier. However, some devices have vendor specific unique identifier, for example TK-103 devices use 11-digit identifier.
Set Up the IP and port on your tracker: (automatic detect tracker's protocol.)

| | |
| --- | --- |
| Server | d.plaspy.com |
| IP | 54.85.159.138 |
| Port | 8888 |

Add on your Account on devices with the IMEI or unique ID.