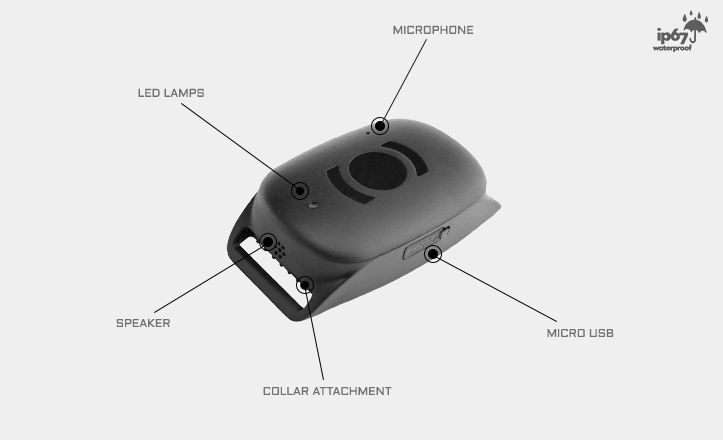 Visit the manufacturer website
MiniFinder® Atto is here, a mini gps tracker for pets (cats & dogs) and animals in general.
Device is built on the same proven technology and protocol of MiniFinder® that is used in our Pico* tracker which guarantees accurate positioning of your lovely pet or other animals that needs to be equipped with quality GPS Tracking device.
MiniFinder® Atto's unique and trademarked design has been carefully tested on different kind of animals. Our mission was to provide a small gps tracking solution with long battery life. Atto is light and small. Its weight is only 38g and only 16mm thin.
If you're like us and need to know every step that your pet takes, MiniFinder® Atto is ready to help you. It can be delivered preconfigured to our tracking system. The device can be tracked in real-time by your computer or iOS and Android apps.
Smart sleep mode
MiniFinder® Atto uses a smart in-house developed algorythm that utilize battery in a best possible way. It gives you 15 days of tracking while smart deep sleep mode activated. MiniFinder® Atto is the only Pet tracker in the world of this size with so long battery life!
Features:
Real-time Tracking.
Tracking on demand (by SMS).
Supports GoogleMaps.
Geo Fence Alarm.
Bark detector.
Passive tracking.
Standby up to 20 days (no movement).
Waterproof (IP67).
Specifications:
| Items | Specification |
| --- | --- |
| Dimensions | 65 x 34 x 16mm |
| Weight | 38g |
| Charging Voltage | Micro USB, DC4.2V~5.5V/400mA |
| Back-up Battery | Lithium-ion, 900mAh |
| Power Consumption | 45mA standby current |
| GPS Chipset | u-Blox 7, AGPS support (Swiss made) |
| GSM Chipset | SIMCOM800L, quad-band |
| GSM Frequency | 850/1900mhz 900/1800MHz |
| Operating temperature | -20°C to 60°C |
| Work time | 4 to 10 days in normal mode |
| Standby time | up to 20 days |
| LED | 2 lights for Power, GSM & GPS indication |
| Buttons | No buttons |
| Sensor | Built in 3D G-sensor (by BOSCH) |
| Accuracy | 5 – 15 meters |
| I/O | 1 port for USB cable |
This information only is for informational purposes only, Plaspy does not have relationship with the device's manufacturer, for more information check the
manufacturer's website
or user manual.
Set Up ATTO
To set the tracker send the following commands by SMS messages
Set the time zone UTC-0
tz+00
Set the operator APN
S1,{{apn}}

,{{apnu}},{{apnp}}

Set the GPRS server
IP1,54.85.159.138,8888
Trackers