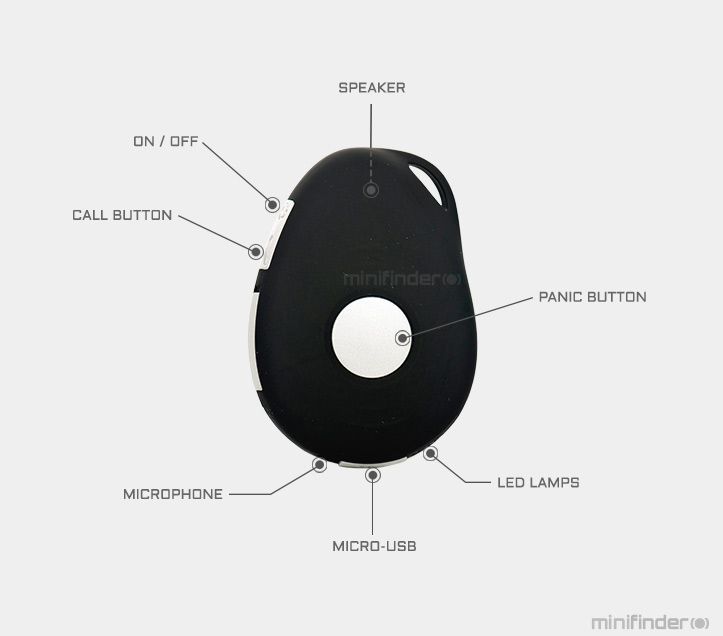 Visit the manufacturer website
MiniFinder® Pico is built on top of latest positioning technology that gives you peace of mind no matter if you use it for tracking your children, pets or important assets.
Unique design
MiniFinder® Pico is a tiny GPS/GNSS device with unique trademarked design. No matter if attached to the keys and used as a key chain or placed in a pocket, Pico will feel comfortable. It's size (only 16mm thin) and weight (only 35g) fits even in the smallest pockets of your lovely little child.
racking on demand
All you need is a smart phone. Send a SMS to request position from your MiniFinder® Pico and you'll get reply back with Google Maps link that points on exactly position of it.
No monthly fees. No software needed.
Live tracking
If you're like us and need to know every second where your valuables are, your MiniFinder® Pico will help you. We can deliver it preconfigured to our tracking solutions and give you access to our iOS and Android apps.
Fall detection
Fall detection is a important function if used on an elderly person who suffers from Alzheimer or another disiese. Pico will send you SMS alarm as soon as it detect a fall.
Smart sleep mode
We've created a smart algorythm that utilize battery in a best possible way. It gives you 20 days of tracking when smart sleep mode activated. MiniFinder® Pico is the only tracker in the world of this size with so long battery life!
Specifications
| Items | Specification |
| --- | --- |
| Dimensions | 60 x 41 x 16mm |
| Weight | 35g |
| Charging Voltage | Micro USB, DC4.2V~5.5V/400mA |
| Back-up Battery | Lithium-ion, 900mAh |
| Power Consumption | 45mA standby current |
| GPS Chipset | u-Blox 7, AGPS support |
| GSM Chipset | SIMCOM800L, quad-band |
| GSM Frequency | 850/1900mhz 900/1800MHz |
| Operating temperature | -10°C to 60°C |
| Work time | 4 to 10 days in normal mode |
| Standby time | up to 20 days |
| LED | Lights for Power, GSM & GPS |
| Buttons | SOS, Call & On/Off |
| Sensor | Built in 3D G-sensor (by BOSCH) |
| Accuracy | 5 – 15 meters |
| I/O | 1 port for USB cable |
This information only is for informational purposes only, Plaspy does not have relationship with the device's manufacturer, for more information check the
manufacturer's website
or user manual.
Set Up PICO
To set the tracker send the following commands by SMS messages
Set the time zone UTC-0
tz+00
Set the operator APN
S1,{{apn}}

,{{apnu}},{{apnp}}

Set the GPRS server
IP1,54.85.159.138,8888
Trackers