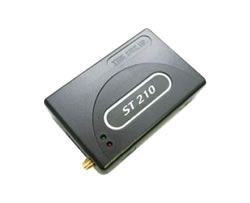 Visit the manufacturer website
Suntech ST 210, by using GPS and GPRS technology, receives and sends vehicle location to the server, so that your customers can track the vehicle on real time. Further, by using Geo-fencing service, you can make and instant alert available if the vehicle is driven outside the pre-set zone. It is allowing your customer to stay in comfort without worry about the vehicle being stolen.
Feaatures:
Brand:Suntech.
Model:ST 210.
Target Market:Track & Trace, Vehicle recovery, Fleet Management, In-car navigation.
GSM band:Full quadband.
Voice:Yes.
Back up Battery:Yes.
Internal Memory:Yes.
Communication method:GSM, GPRS.
Position by:Time, Distance.
Sleep mode:Yes.
Digital Inputs:>4.
Pre-defined inputs:Ignition.
Internal events based:Yes.
Antennas:GPS, GSM internal.
Casing:Plastic.
Extra Connectivity:Fix antennas, Mic/Spk, Serial Port.
Made in:South Korea.
This information only is for informational purposes only, Plaspy does not have relationship with the device's manufacturer, for more information check the
manufacturer's website
or user manual.
Set Up ST 210
To set the tracker send the following commands by SMS messages, the ID is the last 6 numbers of IMEI excluding the last number.
for example, if the IMEI is EBnea2uOAcNVjlM the device Id is bWg3H7
Type the IMEI number Your Plaspy device ID is 8tf6vLWojDN2pVuhtZQX3Yqk
Set the operator APN and GPRS server
SA200NTW;{{('XXXXXX' + imei.substring(8,14)).slice(-6)}};02;

1

0

;{{apn}};{{apnu}};{{apnp}};54.85.159.138;8888;;;;
Set the update interval to 60 seconds
SA200RPT;{{('XXXXXX' + imei.substring(8,14)).slice(-6)}};02;60;60;60;3;0;0;0;0;0
To check settings SA200CMD;{{('XXXXXX' + imei.substring(8,14)).slice(-6)}};02;PresetA
Trackers