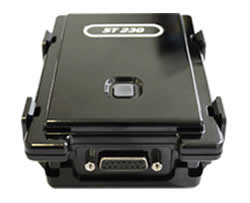 Visit the manufacturer website
The Standalone GPS Suntech ST230 is a GPS Asset Trackers with plastic cover IP67 (Waterproof) and 5200mAh internal battery. ST230 is more advanced Standalone GPS of Suntech to GPS tracking mobile assets of high value such as trailers, containers, trains or yachts.Suntech ST230 also has 4 digital inputs to control the panic button, ignition or connecting external sensors.
Features:
Brand:Suntech.
Model:ST230.
Target Market:Track & Trace, Vehicle recovery, Fleet Management.
GSM band:Full quadband.
Voice:No.
Back up Battery:Yes.
Internal Memory:Yes.
Communication method:GPRS, TCP, UDP.
Position by:Time, Distance.
Sleep mode:Yes.
Digital Inputs:>4.
Pre-defined inputs:Ignition.
Analogue Inputs:1.
Internal events based:Yes.
Antennas:GPS, GPS internal, GSM internal.
Casing:Plastic.
Extra Connectivity:Fix antennas, Serial Port.
Can Bus:No.
Made in:South Korea.
This information only is for informational purposes only, Plaspy does not have relationship with the device's manufacturer, for more information check the
manufacturer's website
or user manual.
Set Up ST 230
To set the tracker send the following commands by SMS messages, the ID is the last 6 numbers of IMEI excluding the last number.
for example, if the IMEI is HtXdj8ZA1GCCtU9 the device Id is ygSHSG
Type the IMEI number Your Plaspy device ID is IeRFMEjKfwVYJLn6XpkO5lWE
Set the operator APN and GPRS server
SA200NTW;{{('XXXXXX' + imei.substring(8,14)).slice(-6)}};02;

1

0

;{{apn}};{{apnu}};{{apnp}};54.85.159.138;8888;;;;
Set the update interval to 60 seconds
SA200RPT;{{('XXXXXX' + imei.substring(8,14)).slice(-6)}};02;60;60;60;3;0;0;0;0;0
To check settings SA200CMD;{{('XXXXXX' + imei.substring(8,14)).slice(-6)}};02;PresetA
Trackers