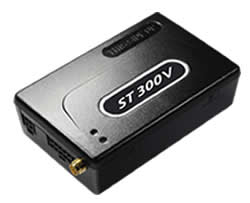 Visit the manufacturer website
Suntech ST300V GPS Vehicle tracker and Driving control focused on Fleet Management that need direct communication with the driver or hear in the cabin. ST300V can extract reports Can Bus vehicle with standard J1939/OBDII and 1-Wire interface allows a Driver identification.
The Suntech ST300V GPS tracking can be done through a Tracking Management Platform via Web or he sent SMS in receiving the current location ST300V with a link to Google Map.
Features:
Brand:Suntech.
Model:ST300V.
Target Market:Track & Trace, Vehicle recovery, Fleet Management, Telematics, 2-way messages w/drivers.
GSM band:Full quadband.
Voice:Yes.
Back up Battery:Yes.
Internal Memory:Yes.
Communication method:GPRS, TCP, UDP.
Position by:Time, Distnce, Angle change.
Sleep mode:Yes.
Digital Inputs:3.
Pre-defined inputs:Ignition.
Analogue Inputs:2.
Internal events based:Yes.
Antennas:GPS, GPS internal, GSM internal.
Casing:Plastic.
Extra Connectivity:Fix antennas, Mic/Spk, Fuel Sensors, Temp Sensors, Driver ID, 1-wire, Serial Port.
Can Bus:J1939, OBDII.
Made in:South Korea.
This information only is for informational purposes only, Plaspy does not have relationship with the device's manufacturer, for more information check the
manufacturer's website
or user manual.
Set Up ST 300V
To set the tracker send the following commands by SMS messages, the device ID is the last 9 numbers of IMEI excluding the last number.
for example, if the IMEI is kdrl0TXmWEhw3lB the device Id is MRr1i9vBx
Type the IMEI Number Your Plaspy device ID is KmwfbCabixj0VzKHHAVZAR1i
Reset the factory settings
ST300CMD;{{('XXXXXXXXX' + imei.substring(5,14)).slice(-9)}};02;Reset
Set the operator APN and GPRS server
ST300NTW;{{('XXXXXXXXX' + imei.substring(5,14)).slice(-9)}};02;

1

0

;{{apn}};{{apnu}};{{apnp}};54.85.159.138;8888;;;;
Set update interval 60 seconds
ST300RPT;{{('XXXXXXXXX' + imei.substring(5,14)).slice(-9)}};02;60;60;60;3;0;0;0;0;0
To check settings ST300CMD;{{('XXXXXXXXX' + imei.substring(5,14)).slice(-9)}};02;PresetA
Trackers