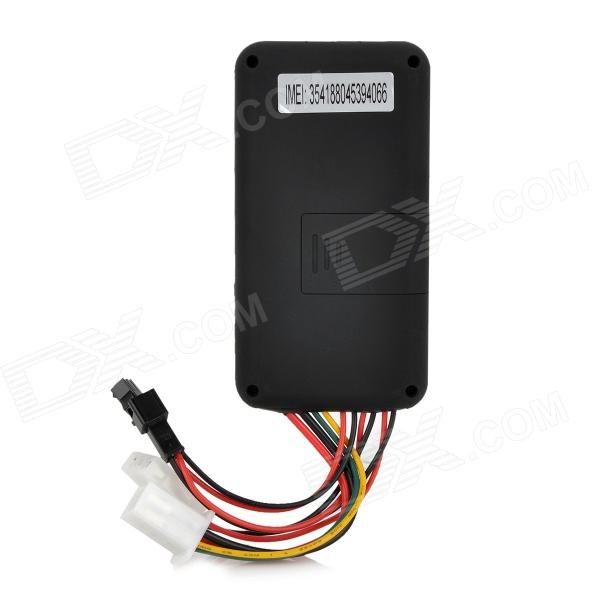 Visit the manufacturer website
This GPS tracked designed to work on existing GSM/GPRS network and GPS satellites, this product can locate and monitor any remote targets by SMS and GPRS. TK100 can be used to track or motor any vehicle or motorcycle within location where it can receive GPS and GSM mobile network. This GPS tracker can be used for application on business, rental, or personal vehicle as monitoring or antitheft device. TK100 was designed for compact and easy installation. 
This is how it works: 
GSM module orders to capture GPS data and sends to the authorized mobile number by SMS, it can show the current location on phone or tracking the location on Google earth or Google map. Moreover, GPS data can be transmitted by GPRS to Internet server so that realize real time tracking on a computer.
Main functions
GSM quad-band frequency for worldwide use 
Continuous GPS positioning, and GPRS real-time report; 
Support location enquiry through SMS 
Specifications:
GSM frequency ranges: 850/900/1800/1900
Network: GSM/GPRS/GPS
GPS chip: UBLOX
GSM module: MTK60
GPRS: Class10, TCP/IP
Working voltage: 9~24V DC
Working current: ≈22mA (12V DC)
Working current: ≈12mA (24V DC)
GPS positioning time: cold start≈38s (Open sky), warm start≈32s, hot start≈2s (Open sky)
GPS positioning accuracy: 10m (2D RM)
Working ambient temperature: -20°C~+70°C
Working ambient humidity: 20%~80% RH
Web based platform: www.gps228.com
Work voltage: 9V-36V or 24V-80V
Storage Temp.: -40°C to +85°C
Operation Temp.: -20°C to +55°C
Humidity: 5%--95%
Dimensions: 97 mm x 51 mm x 15 mm 


Weight: 80g
This information only is for informational purposes only, Plaspy does not have relationship with the device's manufacturer, for more information check the
manufacturer's website
or user manual.
Set Up GT06
To set the tracker send the following commands by SMS messages, the sample setup the device password is FsFuMa, this password is the default
Factory settings
FACTORY,FsFuMa#
Set the time zone UTC-0
gmt,FsFuMa,e,0#
Set the operator APN
APN,FsFuMa,{{apn}}

,{{apnu}},{{apnp}}

#
Set GPRS server
server,FsFuMa,0,54.85.159.138,8888,0#
Set update interval 60 seconds
timer,FsFuMa,,60#
To check settings GPRSSET,FsFuMa#
To check status status,FsFuMa#
Trackers