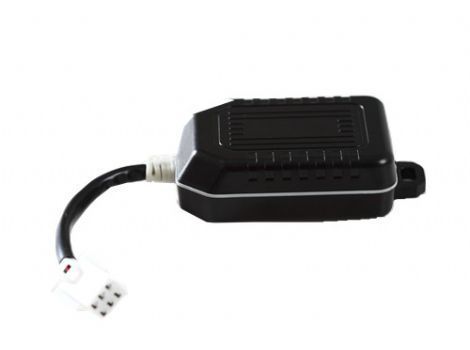 Visit the manufacturer website
Vehicle / Motorcycle GPS Tracker
Features
 Water proof and dust-resistant (IP66 rating).

  Internal GPS&GSM antenna. High sensitivity.

  Inbuilt 3D G-sensor for power management and motion, shock alarm.

  Free Real-time Web based online tracking service.

  Arm/Disarm function to protect your car/motorcycle.

  Reply maps link and car's real address (city, street by SMS).

  Geo-fence Management.

  Over speed alarm.

  Listen in function.

  Car power lost alarm, low power alarm.

  Remote engine/oil cut-off by SMS and website. 

  Inputs detections for ACC ON/OFF, SOS panic button or Door Open/Close.

  Output: Remote Lock/Unlock door or Siren Sounding. 

  Built-in relay, 8MB flash memory.

  Data logging: 60000locations.

  GPRS blind area data re-upload function.

  Firmware upgrade over the air.

  Built-in 3cs super magnets to mount device to any metal surface.

  Backup battery: 1100MAh. 

  U-Blox GPS chip technology.
This information only is for informational purposes only, Plaspy does not have relationship with the device's manufacturer, for more information check the
manufacturer's website
or user manual.
Set Up EV-603
To set the tracker send the following commands by SMS messages, the sample setup the device password is bIJN4r, this password is the default
Set the time zone UTC-0
bIJN4rL+00
Set the operator APN
bIJN4rS1,{{apn}}

,{{apnu}},{{apnp}}

You need to contact the manufacturer to enable the option to change server
bIJN4rI1,54.85.159.138,8888
Trackers