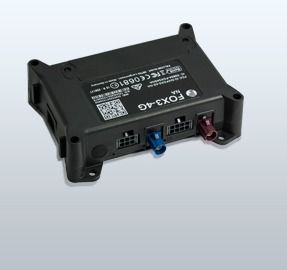 Visit the manufacturer website
Industrial IoT applications requiring broadband speeds can benefit from FOX3-4G Series with LTE Cat 4 network technology and 3G and 2G fall-back to future-proof the investment and ensure data connectivity.
FOX3-4G Series is a state-of-the-art vehicle telematics and gateway device that features 4G mobile communication technology, global usage on 3G/2G mobile networks and latest GNSS technology for exact positioning. It is a highly customizable vehicle telematics device and it offers a variety of inputs and outputs to satisfy the most demanding requirements.
A box (IOBOX-MINI, IOBOX-CAN or IOBOX-WLAN) can be used to extend the functionality of the FOX3-4G Series for the most flexible expansion options in the industry. It is designed to operate with both internal or external antennas. Internal antennas are automatically turned off while external antennas are in use. This series will dramatically simplify your logistics as well as the installation process and the post-installation support. Newly developed FALCOM "Premium-Features" show the way to the future of mobile data logging, storing, processing and sending. FOX3-4G Series offers new features like: Data Encryption, several History Modes, Eco-Drive/Behaviour, Data Logging, GSM/GPS jamming detection beside standard items like status reports, alerts messaging or geofencing.
This information only is for informational purposes only, Plaspy does not have relationship with the device's manufacturer, for more information check the
manufacturer's website
or user manual.
Trackers
Use Plaspy with a tracker
Set the Operator APN
Check your tracker clock setup is set UTC-0 o GMT. (The most trackers come from the factory on UTC.)
For most devices you should use IMEI (International Mobile Equipment Identity) number as unique identifier. However, some devices have vendor specific unique identifier, for example TK-103 devices use 11-digit identifier.
Set Up the IP and port on your tracker: (automatic detect tracker's protocol.)

| | |
| --- | --- |
| Server | d.plaspy.com |
| IP | 54.85.159.138 |
| Port | 8888 |

Add on your Account on devices with the IMEI or unique ID.