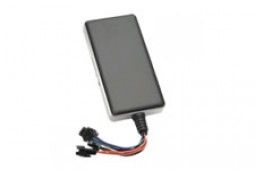 Visit the manufacturer website
 Product Description 
GPS Tracking device mainly consists of two parts such as GPS module and GSM module. 
---GPS module is for getting location data from satellite, 
---GSM module is for transferring data to server 
So that people can check the information via PC or mobile phone.
 Product Application
1, Vehicle tracking 
2, Fleet management
   ---motorcycle tracking
   ---taxi / car tracking
   ---bus tracking
   ---truck tracking 
 Key Features
--GSM 850/900/1800/1900 Quad band
--Wide for voltage input range: 9-36vDC
--GPS continuous positioning, GPRS timing interval 
--Check location via SMS 
--Built-in vibration sensor, theft-proof
--ACC ignition detection
--Tele-cutoff (petrol/ electricity) function
--Three SOS numbers in maximum
--SOS alarm and burglar alarm
--Voice monitor function
--Alarm when the power supply is disconnected intentionally (with backup battery)
--Set Geo-fence from platform or via sms command 
--Data re-sent from signal dead zone
--Mileage statistics
--SMS for alarm notice
This information only is for informational purposes only, Plaspy does not have relationship with the device's manufacturer, for more information check the
manufacturer's website
or user manual.
Set Up M588S
To set the tracker send the following commands by SMS messages, the sample setup the device password is 4nNB8i, this password is the default
Type the device ID
Type your phone number
Set the GPRS server
SS,*{{apn}}*,*{{apnu}}*,*{{apnp}}*,*54.85.159.138*,*8888*,*{{DeviceID}}*,*{{phoneNumberUser}}*,*4nNB8i*
Set the GPRS server
S,*{{apn}}*,*54.85.159.138*,*8888*,*{{DeviceID}}*,*{{phoneNumberUser}}*,*4nNB8i*
Trackers