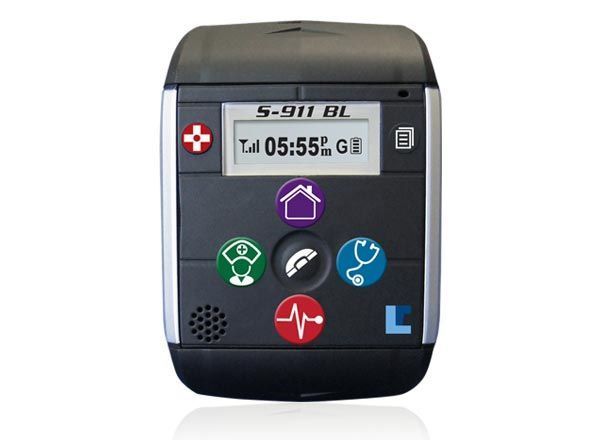 Visit the manufacturer website
Laipac's S911 Bracelet Locator HC (Healthcare) can be used to provide the location of patients and elderly care.
S911 Bracelet Locator HC-ST contains high sensitivity GPS receiver with 2-way voice for Healthcare patients.
The S911 Bracelet Locator Healthcare features an SOS emergency button, G-sensor to detect falls, GeoFence protection, and quick dial for immediate assistance. It also features tamper detection. In real time, the device can pinpoint the exact location of the person. It's ideal for locating patients (Alzheimer's, Dementia and Autism) and for elderly care. It sends alerts on emergency situations when the person is unable to communicate. The unit is durable for the patient's everyday use.
When a patient wearing the S911 Bracelet Locator Healthcare ends up getting lost, the bracelets location data is collected and transmitted in a real time to our secure website www.locationnow.com. The data can be viewed, tracked in real time, and the patient recovered within a timely manner.
The S911 Bracelet HC-ST features Tamper Detection. Once the band is cut or clasp is opened, a notification will be sent. If a patient happens to enter or exit a predefined GeoFence, caretakers or call center can receive the real time alert by email, SMS or phone call.
The suggested applications are: Elderly Care, Patients with Alzheimer's, Patients with Autism, and Patients with Downs Syndrome.
FEATURES:
GSM/GPRS for worldwide coverage.
LCD Display for Time, GPS Status, GSM Status, and Battery Level.
AGPS for obtaining a GPS fix faster.
Built in SPK and MIC.
Micro USB port for configuration and power charging.
Geo-Fence setting with in/out alert.
Security band available.
Tamper Detection.
Built in Smart logger with thousands of waypoint to record time stamp, speed, position, and event state.
3 Axial Accelerometer to report impact, accident, crash, and falling.
Real time position updates based on time and distance intervals.
Mileage report and over-speed alert.
Phonebook & Fast dial feature.
IP67.
SPECIFICATIONS:
Dimensions 5.0 × 4.4 × 1.5 cm (Band area not included).
Weight 130 g.
Keyway for security lock.
Gift box measures 123(w) x 168(h) x86(d)mm.
This information only is for informational purposes only, Plaspy does not have relationship with the device's manufacturer, for more information check the
manufacturer's website
or user manual.
Trackers
Use Plaspy with a tracker
Set the Operator APN
Check your tracker clock setup is set UTC-0 o GMT. (The most trackers come from the factory on UTC.)
For most devices you should use IMEI (International Mobile Equipment Identity) number as unique identifier. However, some devices have vendor specific unique identifier, for example TK-103 devices use 11-digit identifier.
Set Up the IP and port on your tracker: (automatic detect tracker's protocol.)

| | |
| --- | --- |
| Server | d.plaspy.com |
| IP | 54.85.159.138 |
| Port | 8888 |

Add on your Account on devices with the IMEI or unique ID.