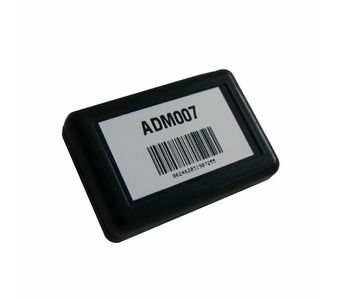 Visit the manufacturer website
ADM007 terminal is designed for mounting onto vehicle as an optional device to register its location, speed and driving direction by signals from GLONASS/GSP system. 
In addition, it registers a number of other parameters, such as:  the state of analog input.
All events and conditions registered by the terminal are stored in a non-volatile memory. The accumulated data is transmitted through GSM 850/900/1800/1900 network of cell communications operator with the use of GPRS packet data transmission technology to a dedicated server from which it can be obtained via the Internet for further analysis and processing at the dispatcher console.
The device is designed for facilities that require only control of movement, such as taxi, personal transport, equipment rental companies. Small size and weight allow to install the device on small-sized objects: motorcycles, quadrocopters, etc. 
Benefits of ADM007 GLONASS / GPS Terminal
High-sensitivity receiver ensures the quick location in the adverse conditions.
Compact case with built-in GSM and GLONASS/GPS antennas.
Easy installation.
The possibility of choosing navigation system (GLONASS, GPS, GLONASS+GPS)
Remote updating of terminal firmware version via GPRS.
Wide range of supply voltage. Guaranteed operation at 8.5 to 40V, short-time operation at voltage of up to 50V, and built-in protection against power surges over 50V.
Open and flexible protocol which is supported by most telematics servers.
Support for domain name as the server address.
Password protection of terminal and SIM card against unauthorized operation.
PCT certificate, and TR CU 020/2011 declaration.
Compact size and low weight.
Technical support by the manufacturer.
Two-year warranty period.
This information only is for informational purposes only, Plaspy does not have relationship with the device's manufacturer, for more information check the
manufacturer's website
or user manual.
Trackers
Use Plaspy with a tracker
Set the Operator APN
Check your tracker clock setup is set UTC-0 o GMT. (The most trackers come from the factory on UTC.)
For most devices you should use IMEI (International Mobile Equipment Identity) number as unique identifier. However, some devices have vendor specific unique identifier, for example TK-103 devices use 11-digit identifier.
Set Up the IP and port on your tracker: (automatic detect tracker's protocol.)

| | |
| --- | --- |
| Server | d.plaspy.com |
| IP | 54.85.159.138 |
| Port | 8888 |

Add on your Account on devices with the IMEI or unique ID.