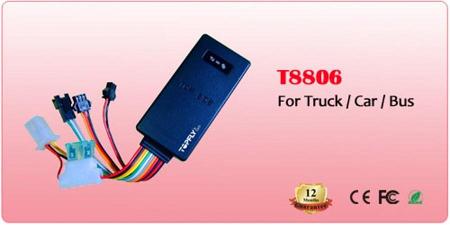 Visit the manufacturer website
Functions:
Real-time tracking.
Historical waypoint record.
Remotely immobilization control.
Overspeed alarm.
Geo-fence alarm.
Tow alarm.
Two-way audio.
SOS calls.
Theft alarm (Unauthorised ACC disconnected).
Fuel detection.
Fuel leakage alarm.
Termperature detection.
Car door motion detection.
Air-conditioner detection.
This information only is for informational purposes only, Plaspy does not have relationship with the device's manufacturer, for more information check the
manufacturer's website
or user manual.
Set Up T8806
To set the tracker send the following commands by SMS messages, the sample setup the device password is h1EB, this password is the default
Set the time zone UTC-0
GMT,h1EB,0#
Set the operator APN
APN,h1EB,{{apn}},{{apnu}},{{apnp}}#
Set the GPRS server
IP,h1EB,54.85.159.138 8888#
Set the update interval, 60 seconds
TIMER,h1EB,60:60:0:0#
Trackers