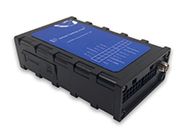 Visit the manufacturer website
Features

• Send data to two servers simultaneously.
• 3-Axis Digital Accelerometer movement status monitoring.
• Firmware upgrade by OTA.
• Support DC 9v --50v , over-voltage protection.
• Send commands to GPS trackers via GPRS or SMS.
• Send GPRS data to IP or domain name.
• Google map link sent via SMS.
• Voice monitoring function with microphone.
• user defined settings on I/O ports: digital input, digital output.
To see the traces of AT05, please.

Description for GPS tracking

• GSM: Quad-band: GSM850 / E-GSM900 / DCS1800 / PCS1900.
• u-blox GPS module with high GPS positioning accuracy.
• SMS, GPRS TCP / UDP communications.
• Real time tracking and history data traces tracking.
• Track by cell phone or web based tracking software.
• Real-time tracking (Time, Distance Interval or Intelligent Mode).
• Alarm types: Over-speed, Low power, tremble, Parking, SOS,exterior power off, Internal power low alarm.
• Control car doors close/open, Detect the status of engine on/off.
• Intelligent power management: normal, sleep, deep sleep.
• flash memory for data storage in GSM blind area.

•Sleep mode for Saving Power and GPRS traffic. 
• Backup battery: 300 mAh Li Polymer battery.
• Geo-fencing reports: into-Geo-fence; Out Geo-fence.
• Motion sensor for vehicle motion detections.
• Different GPRS data string sending intervals:
• sending data at certain interval in engine on or tremble state;
• sending data at the other interval in engine off or still state.
This information only is for informational purposes only, Plaspy does not have relationship with the device's manufacturer, for more information check the
manufacturer's website
or user manual.
Set Up AT05
To set the tracker send the following commands by SMS messages, the sample setup the device password is 5ZK2gE, this password is the default
Factory reset
*5ZK2gE,007#
Set the operator APN
*5ZK2gE,002,{{apn}},{{apnu}},{{apnp}}#
Set the GPRS server
*5ZK2gE,003,54.85.159.138,8888,1
Set ACK
*5ZK2gE,019,1#
Set the update interval, 60 seconds
*5ZK2gE,60,60,0,60#
Trackers