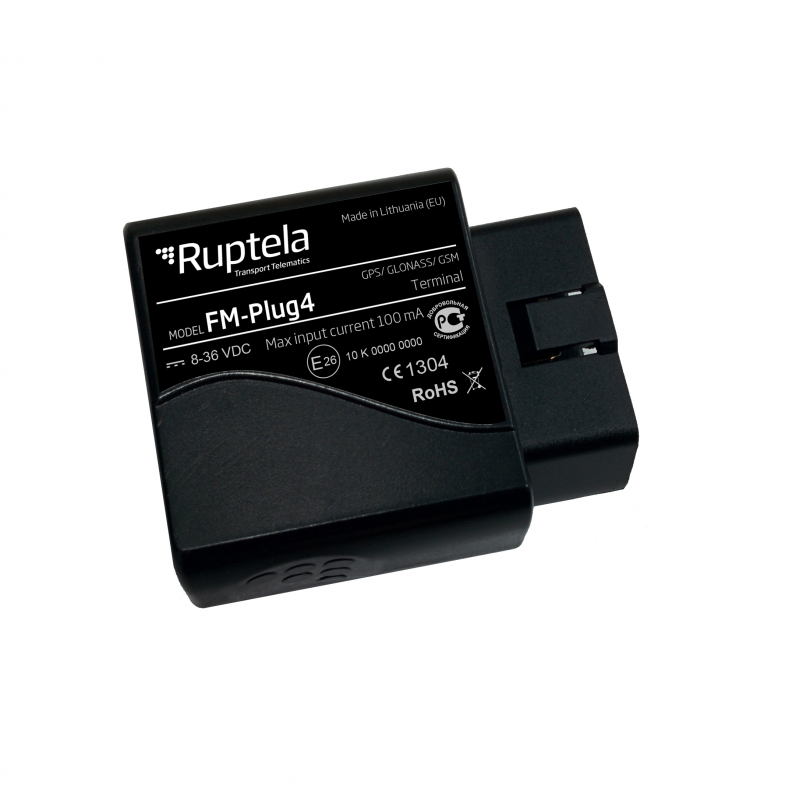 Visit the manufacturer website
FM-Plug4(+) – easy to install personal OBD tracker. It is designed to track and monitor light commercial vehicles, protect vehicle from theft and to read OBD-II engine error codes.
Device is available in two versions:
FM-Plug4+ – with internal battery.
FM-Plug4 – without internal battery.
Device has Plug&Play installation therefore there is no need to hire and train installers saving you on additional installation costs. Fast and easy installation also means that there will be no need to put vehicle out of operations for device installation.
Possibility to preconfigure FM-Plug4 with SIM card and no need of specific knowledge to sell and install this device makes it very suitable for selling it directly to the end customers through mass channels.
FM-Plug4 is a personal tracker that can be assigned to the single person. Therefore if company has less vehicles than drivers or if the vehicle is in repairs tracking will work without any interruptions as the device can be easily moved from one vehicle to the other.
In case vehicle is stolen or device removed owner will receive an alert. Moreover an internal microphone allows to listen what is going on in the vehicle and to protect it even more. The same alert will be received if the vehicle is being towed, allowing owner to react immediately.
FM-Plug4+ can read OBD-II engine error codes and diagnose vehicle errors without expensive diagnostics. It saves time and helps to prevent vehicles breakdown.
Best used for:
Fleet monitoring and control.
Route and order optimization.
Eco-Drive
Functionalities:
OBD II engine error codes reading.
Driver behaviour monitoring (Eco-Drive).
Internal Geozones.
Various features via SMS.
This information only is for informational purposes only, Plaspy does not have relationship with the device's manufacturer, for more information check the
manufacturer's website
or user manual.
Trackers
Use Plaspy with a tracker
Set the Operator APN
Check your tracker clock setup is set UTC-0 o GMT. (The most trackers come from the factory on UTC.)
For most devices you should use IMEI (International Mobile Equipment Identity) number as unique identifier. However, some devices have vendor specific unique identifier, for example TK-103 devices use 11-digit identifier.
Set Up the IP and port on your tracker: (automatic detect tracker's protocol.)

| | |
| --- | --- |
| Server | d.plaspy.com |
| IP | 54.85.159.138 |
| Port | 8888 |

Add on your Account on devices with the IMEI or unique ID.