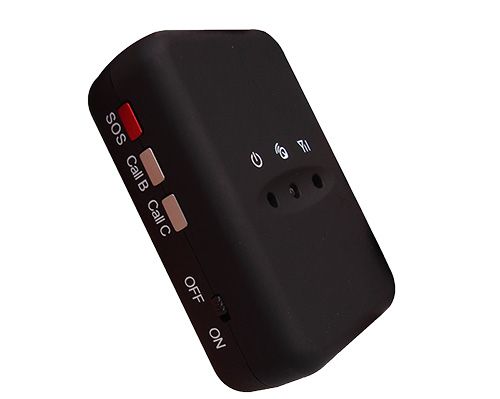 Visit the manufacturer website
Power Saving GPS Personal Tracker PT30
Product Overview
PT30 provides an easy way to track your targets and provides peace of mind by showing you with your mobile phone or PC the location of your targets via SMS or GPRS.
Applications
* People tracking & security, like the Kids, the Elderly, the tourists
* Assets tracking & security
* Pets tracking & Security
Product Features
* No installation, mini size, easy taken
* Track by SMS/GPRS (TCP/UDP)

* Track on Demand

* Real Time tracking via the web-platform

* Track by time Interval

* Two-way conversation

* SOS panic button

* Built-in backup 950mAh battery, normal working, it can work 12 hours, sleep mode, can work 24 hours.

* Geo-fence Alarm

* Built-in sensor for power saving & GPRS flow saving mode (sleep mode)

* Speeding Alarm

* GOOGLE map URL for location via SMS, which shows you location on map via mobile phone.

 * Built-in 2MB memory & position logging capacity up to 10,000+waypoints even no GPRS signal

* Get the physical address name via SMS. 
* Three buttons for making phone call and/ or sending message
This information only is for informational purposes only, Plaspy does not have relationship with the device's manufacturer, for more information check the
manufacturer's website
or user manual.
Set Up PT30
To set the tracker send the following commands by SMS messages, the sample setup the device password is QBtkj5, this password is the default
Type the IMEI number
Reset to factory settings
WQBtkj5,990,099###
Set the device Id, user the 14 firsts numbers from IMEI, Plaspy uses like id the 15 IMEI digits
WQBtkj5,010,{{('XXXXXXXXXXXXXX' + imei.substring(0,14)).slice(-14)}}
Set the operator APN
WQBtkj5,011,{{apn}}

,{{apnu}},{{apnp}}

Set the GPRS server
WQBtkj5,012,54.85.159.138,8888

Switch to GPRS mode
WQBtkj5,013,2
Set the update interval
WQBtkj5,014,6
To get device IMEI WQBtkj5,601
Trackers