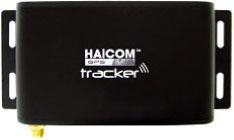 Visit the manufacturer website
Hl-603 is an all in one tracking solution offering your GPS/SMS/GSM/DTMF/GPRS in Real Time solutions. Haicom Hl-603 is the most suitable tracking and fleet management device in the world. Combining with the latest technology and affordability, our tracker offers you a lot of options.
1. DTMF free live tracking solution : 
DTMF mode, Haicom provides you with a free PC base Haicom Tracking software which takes few steps to install on your PC and you can see the moving object live on the map with or with out internet connection (DTMF live tracking is free) With DTMF tracking mode, Haicom trackers need only a normal SIM card (prepaid or postpaid) of any operator and is ready for use.
2. GPRS tracking solution : 
Haicom web tracking is free, 100% free Web-based accessible from any web-enabled PC/Smartphone in the world you can login on our website and see the location of your car in real time, You can program the GPRS data interval from every 4sec to 72hour if you have your own server we can also program our tracker with your server protocol for free so that you can use our tracker with your system.
HI-603VT offer you GSM/GPRS/SMS/DTM all in one solution
User can switch the DTMF mode or GPRS
100% free Web-based accessible from any web-enabled PC/Smartphone in the world!
100% free DTMF live tracking with or with out internet
LIVE real-time tracking, configurable from every 4, second to 72hour gprs updates!
Worldwide coverage with NO additional programs to buy or install - no additional or hidden costs!
Support 4-frequency GSM 900/1800 MHz. (850/1900 Optional). Works worldwide!
High sensitivity, new technology and latest GPS chipset
Work well even in areas with limited sky view like urban canyons
Capable of tracking hundreds of vehicles at once - from the same screen.
Support 3 dialing back for preset phone number and sms
View car speeds LIVE, in real-time - and playback the movements of everywhere the car have been!
geofences send notification via SMS text-message and alert whenever vehicle enters or leaves a predefine area
Speed alerts. · Support check location by SMS /DTMF/ Internet gprs
SOS button send out exact location for immediate rescue/action.
Support Cut Oil and demobilization
Built in back-up battery - ideal for trailers or security applications
Two year warranted with CE, FC,RoHS,WEEE certificate and 24hour customer support for all our products
Our GPS devices is the real deal, they are tested and proven if you have one vehicle or over 100000, Our Haicom Tracker product is the only solution on the market that provides both GSM/SMS/GPRS/DTMF in one and GPS tracking with diagnostic benefits for your fleet and it is one of the most affordable fleet management solutions available today.
Haicom tracker can track a vehicle's location, speed and direction throughout the world with Theft Alert" this warns the user if their car is moved without authorization, our Web and a 24/7/365 live tracking is free.
Features:
GSM antenna plug.
SIM card holder.
DTMF transmission status.
GSM signal status.
Power status.
GPS receiver plug.
12V-24V cigarette lighter power in.
Connected to tapping microphone.
Connected to vibration or microwave sensor.
Connected to vehicle control wirings.
CConnected to the HI-4038T Bluetooth box or HI-SDL data logger.
This information only is for informational purposes only, Plaspy does not have relationship with the device's manufacturer, for more information check the
manufacturer's website
or user manual.
Set Up HI-603
To set the tracker send the following commands by SMS messages, the sample setup the device password is izSp, this password is the default
Set the operator APN
#izSp,200,{{apn}},{{apnu}},{{apnp}}
Set the GPRS server
#izSp,210,54.85.159.138,8888,8888,8888,0
Set the interval update to 60 seconds
#izSp,250,0,60,0,0,0,0,0,0
Trackers