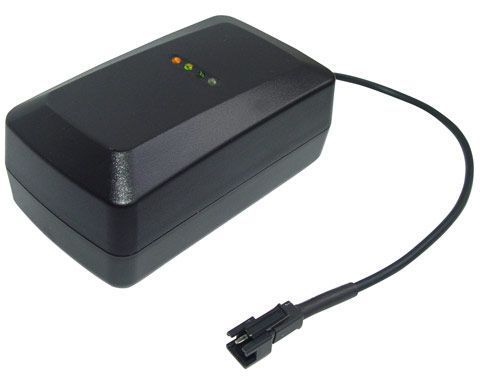 Visit the manufacturer website
The new X series are the new GPRS trackers (no DTMF feature) with new functions, such as, user can program (set up APN, port, interval, dial back tele#, etc.), control the tracker (oil cutting, sleeping mode, etc.) from our GPRS tracking plateform. User can also up date the new firmware any time from that plateform. The tracker current set up status list can also be viewed from there.
Beside the program from the air functions, user can also set up the tracker from the computer with the USB cable or the SMS from the phone. The new " X " series can also send the real time position to the set up dila back telephone numbers with a www hyperlink. The user can check the real time location from the smartphone with a postion on the map. Inside the tracker, there is flashmemory which allow the tracker to keep recording the positions (as a data logger function) so that user can view the tracker whole trip even there is no GSM network coverage. With the inclusive Haicom Tracking software, user can view the history position data on the user friendly map. Also, with the build in motion sensor, user can setup the tracker to go sleeping mode activaly or passively to save the tracker power consumption.
This is a multi-function state-of-the-art GPS tracking solution offering you all in one solution GPS/GSM/GPRS/SMS all in real time - the most flexible tracking device in the world - a great marriage of the latest technology and affordability.
With HI-604X multi function tracker, one can track, remote control, tapping any object globally in real time on the map. User can check the real time location from the GPRS tracking web site or using the Haicom Tracking software installed on the PC and check the real time position on the map via the regular dial tone transmission.
HI-604X tracking Device is the best tracking solution for use in the widest range of applications, from motor homes to mobile home, from cars to caravans, from agricultural machinery to construction equipment, from containers to golf carts – all the assets that you feel could be at risk, especially if they do not have their own source of power.
Just place the tracker where there is no metal material on above, user can see his valuable anytime, anywhere from any computer. The waterproof case allows the tracker still functioning even though under tough and harsh environment. The build in big battery provide the independent power supply even if there is no external power supply. The moving sensor will let the tracker totally switch off (only the microchip standby: 2 mAh) and the tracker can operate very long, could be years, if there is not much movements. With the moving sensor, the tracker will not drain the car battery when the tracker connected to external battery power.
Features :
Haicom Asset Tracking Solution offers you a lot of advantages
Quad band 850/900/1800/1900 MHz GSM system
External SiRF Star III high performance GPS receiver
Internal GSM active antennas
Advanced communication via SMS/TCP/UDP/HTTP
Program, control the tracker from the OTA (Over the Air) web tracking platform and also USB configurations
Build in motion sensor for power saving
Support emergency/ over speed/ motion/ power lost alarm
Real time location report on preferred interval and vehicle status monitoring
Premium functions: Fast GPS Fixed/ A-GPS/ Geo-Fencing/ Hands free Kit/ Anti-Theft/ Data Logger function with 8MB memory size with 100,000 records or more
Low battery alarm and battery voltage status
Our GPRS tracking software Platform and server is free; if you have your own server we can program our tracker with your server protocol
Worldwide coverage with NO additional programs to buy or install - no additional or hidden costs!
Built-in moving sensor with deep sleeping mode (2mA)
Built in 5,500 mAh battery for independent power
Stand-by deep sleeping time up to 180Days (depending on tracking frequency)
Very high sensitivity GPS fixed
Multi-ways tracking software plate form available
Waterproof case for harsh condition environment
Customizations for different tracking applications
Comes with strong Magnetic mounting for easy attachment
Stand alone (Internal Antenna - Self Contained Unit)
Worldwide coverage using GSM/GPRS/SMS
allow you to monitor both on demand or at regular intervals
Ultra low power GPS.
All-in-one design.
Provides you 24/7 access to the location of all your assets.
LIVE real-time tracking, configurable from every 20 second to 72hour GPRS updates!
Give complete supervision into your operations by seeing how long assets are sitting around in one place, when they start moving / stop moving etc.
Establish how long the assets are being used (actual operations time).
Warns when unauthorized/unwanted movement happens.
Provides security and accountability.
Enable the recovery of any stolen assets.
View asset's history online from any computer
Applications :
Police Force and law enforcement Sector
Private Investigations Sector
GPS Asset Tracking
GPS Cargo Tracking
Surveillance Work
Anti theft – both domestic and commercial
Asset recovery
How The HI-604X GPS Tracker Works :
Once fully charged, the HI-604X battery can last up to 180 Days, depending on usage frequency, it has a built-in movement sensor that can be configured directly to alert you on your mobile phone and our server automatically when the object is moved or touched. The owner can locate the asset at any time using our free of charge GPRS web tracking platform or from your smart phone or real time SMS address hyperlink solutions. The HI-604X can also be programmed to automatically report its position at regular pre-set time intervals, which could be from every 30 seconds to every 72 hours. Also, set up to weak up and send location back during the long sleep mode.
This information only is for informational purposes only, Plaspy does not have relationship with the device's manufacturer, for more information check the
manufacturer's website
or user manual.
Set Up HI-604X
To set the tracker send the following commands by SMS messages, the sample setup the device password is iWbo, this password is the default
Set the operator APN
#iWbo,200,{{apn}},{{apnu}},{{apnp}}
Set the GPRS server
#iWbo,210,54.85.159.138,8888,8888,8888,0
Set the interval update to 60 seconds
#iWbo,250,0,60,0,0,0,0,0,0
Trackers