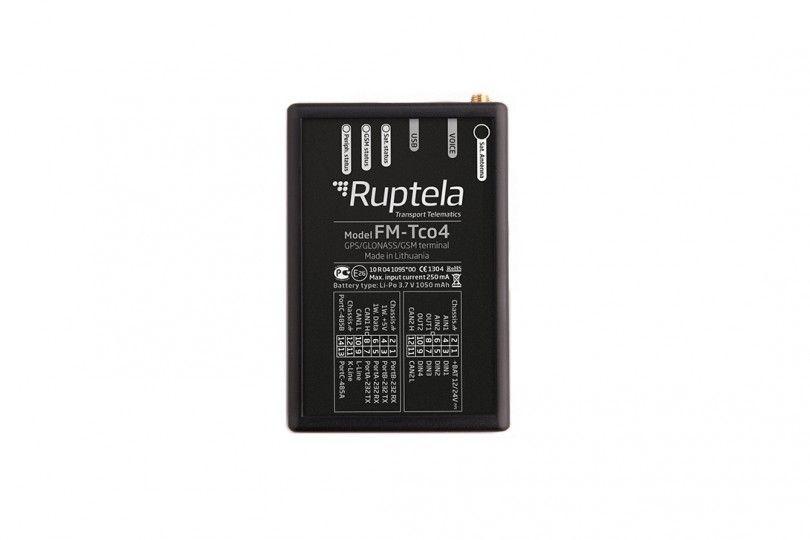 Visit the manufacturer website
FM-Tco4 HCV stands out as the most technologically advanced GPS tracker – it collects data and provides useful insights from modern trucks and other transportation equipment.
Best used for:
Fleet monitoring and control
Route and order optimization
Fuel control and management
Remote Tachograph data reading and downloading
Eco-Drive
Temperature control
Ability to read vehicles on-board computer (CANbus) data in J1708 and FMS standards provides you not just the basic tracking information but enables you to the more comprehensive information about vehicles status. FM-Tco4 HCV is designed to read digital tachographs data and send it in .ddd format to the real time tracking system in a matter of a few minutes. To achieve the best results FM-Tco4 HCV has Dual Can functionality which means that you can get data from vehicles CANbus and obtain digital tachographs data at the same time.
RS232 and RS485 ports feature to work at the same time and 1-Wire interface enables FM-Tco4 HCV to be connected with large number of additional accessories for vehicles safety and drivers control. In addition device also monitors ThermoKing, Optitemp and Carrier refrigerators data.
Equipped with the latest telematics technologies FM-Tco4 HCV allows to implement wide range of fleet management tasks resulting in an absolute control over the fleet, operating costs reduction and increased efficiency.
FM-Tco4 HCV functionalities:
Driver behaviour monitoring (Eco-Drive)
On-board computer data reading (CANbus: J1708, FMS)
Tachograph data reading and downloading (.ddd format)
Temperature monitoring
Driver registration and identification
Remote ignition blocking
Fuel monitoring
Internal Geozones
Antijamming
Dual transparent channel
Various features via SMS
This information only is for informational purposes only, Plaspy does not have relationship with the device's manufacturer, for more information check the
manufacturer's website
or user manual.
Trackers
Use Plaspy with a tracker
Set the Operator APN
Check your tracker clock setup is set UTC-0 o GMT. (The most trackers come from the factory on UTC.)
For most devices you should use IMEI (International Mobile Equipment Identity) number as unique identifier. However, some devices have vendor specific unique identifier, for example TK-103 devices use 11-digit identifier.
Set Up the IP and port on your tracker: (automatic detect tracker's protocol.)

| | |
| --- | --- |
| Server | d.plaspy.com |
| IP | 54.85.159.138 |
| Port | 8888 |

Add on your Account on devices with the IMEI or unique ID.