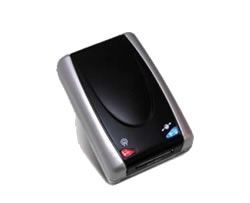 Visit the manufacturer website
SANAV GC-101 is using the GPRS service to upload the RMC sentences containing latitude, longitude, speed and time to an assigned web server. It is specially designed for the intensive tracking applications, such as fleet management and life security.
Features:
Brand:SANAV
Model:GC-101.
Target Market:Track & Trace, Vehicle recovery, Fleet Management.
GSM band:Full quadband.
Voice:No.
Back up Battery:Yes.
Internal Memory:Yes.
Communication method:TCP, UDP.
Position by:Time, Distance.
Sleep mode:Yes.
Pre-defined inputs:Panic.
Antennas:GSM internal.
Casing:Plastic.
Made in:Taiwan.
This information only is for informational purposes only, Plaspy does not have relationship with the device's manufacturer, for more information check the
manufacturer's website
or user manual.
Set Up GC-101
To set the tracker send the following commands by SMS messages, the sample setup the device password is fJ8O, this password is the default
Factory reset
#username,fJ8O,9*
Set the operator APN
#username,fJ8O,3,{{apn}},{{apnu}},{{apnp}}*
Set the GPRS Server
#username,fJ8O,18,54.85.159.138:8888*
Set the route for data transmission
#username,fJ8O,14,9*
Set update interval to 60 seconds
#username,fJ8O,6,60,9999*
Trackers