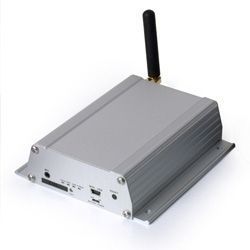 Visit the manufacturer website
GS-819 is specially designed for vehicle tracking applications, equipped with Cinterion® EHS6 3G module and SiRF Star IV GPS Receiver. The rugged metallic structure is a best match for in-car environments. Opened I/Os are provided for sensors and relays.
FEATURES:
High GPS and 3G sensitivity.
Send position via 3G / GPRS / SMS.
ACC ON/OFF Detection.
4 Output, 2 Analog Input, and 4 Digital Input available.
Configurable via COTA, SMS command, and PC software.
Programmable auto report based on Time or Distance.
Embedded Motion Sensor and Flash Memory.
SPECIFICATIONS:
GPS Module
Receiver
Sirf Star IV GPS Receiver
Datum
WGS-84
Sensitivity
-159dB
Reacquisition
<0.1s
Update Rate
1 Hz
Accuracy
Average accuracy within 15 meters
GSM Transceivers
GSM Module
EHS6
General
Antenna
External GSM antenna (SMA Connector); 
External GPS antenna (RSMA Connector)
External Power Supply
8-35V DC
Current Consumption
Operation : 33~8106mA @ 12V DC
Standby : 14~28mA @ 12V DC
Dimension
105(L) x 100(W) x 30(H) mm
I/O
1 x ACC Detection
3 x Output (Max. operating current 300mA, @VIN)
1 x Output (1-Wire, @V3.3)
2 x Analog Input (0~40 V DC, Function reserved)
4 x Digital Input (1 High Inputs 3~40V, 3 Low Inputs 0~0.6V)
Interface
RS-232 ( Support Garmin FMI , Bar Code Reader , RFID Reader )
This information only is for informational purposes only, Plaspy does not have relationship with the device's manufacturer, for more information check the
manufacturer's website
or user manual.
Set Up GS-819
To set the tracker send the following commands by SMS messages, the sample setup the device password is PKUs, this password is the default
Factory reset
#username,PKUs,9*
Set the operator APN
#username,PKUs,3,{{apn}},{{apnu}},{{apnp}}*
Set the GPRS Server
#username,PKUs,18,54.85.159.138:8888*
Set the route for data transmission
#username,PKUs,14,9*
Set update interval to 60 seconds
#username,PKUs,6,60,9999*
Trackers