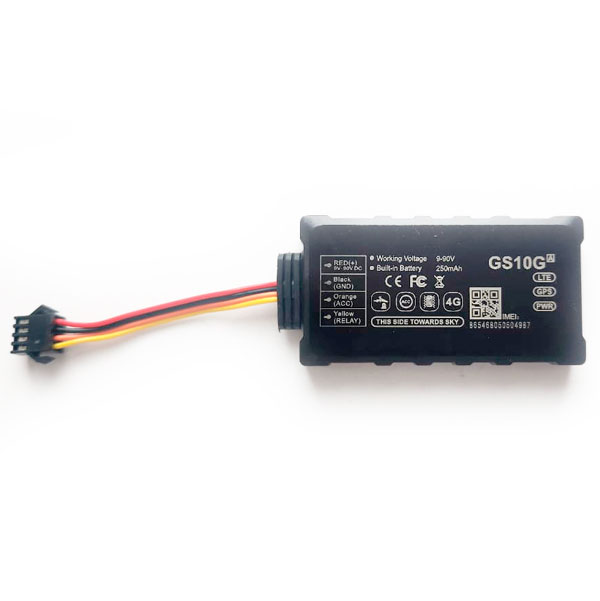 Visit the manufacturer website
GS10G is an intelligent vehicle gps tracker which combines 4G full netcom wireless communication technology and GPS/BDS satellite navigation with ACC detection, disassemble alarm,overspeed alarm, Mileage statistics, remotely cut-off petrol/electricity and other functions.
GS10G is mainly used in the insurance industry, enterprise fleet industry, auto manufacturers or4S stores, individuals, electric new energy fields, passenger vehicles, taxis, rental vehicles, etc.
Functions:
Remotely cut-off petrol/electricity
Real-time Tracking
Cut-wire alarm
Low Battery Alarm
4G network
ACC Detection
Parameters and specifications:
Frequency: B1,B2,B3,B4,B5,B7,B8,B28,B38,B40,B41,B66 2G:850/900/1800/1900MHZ
GPS Sensitivity: -144dBm
Location Accuracy: ≤5m
Tracking Sensitivity: -165dBm
GPS LED Indicator: Blue
4G LED Indicator: Yellow
Power LED Indicator: Red
This information only is for informational purposes only, Plaspy does not have relationship with the device's manufacturer, for more information check the
manufacturer's website
or user manual.
Set Up GS10G
To configure the tracker, send the following commands via text messages
Configure your carrier's APN
APN,{{apn}}

,{{apnu}},{{apnp}}

#
Setup the GPRS server
SERVER,1,d.plaspy.com,8888,0#
Set up the update interval
TIMER,60,60#
Switch to GPRS mode
GPRSON,1#
To check the configurationPARAM#
To check tracker statusSTATUS#
Trackers