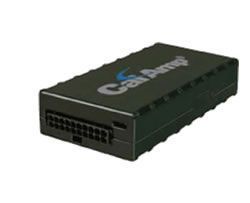 Visit the manufacturer website
CalAmp understands the complications of today's insurance and sub-prime lending markets and offers the CalAmp model LMU-1000 Economy Class Tracking Unit to provide ecomonical asset management. The unit can be fully customized to meet the specific requirements of any particular application.
GPS tracker technical characteristics:
Brand:CalAmp
Model:LMU-1000
Target Market:Track & Trace, Vehicle recovery
Voice:No
Back up Battery:Yes
Internal Memory:No
Sleep mode:Yes
Antennas:GPS internal, GSM internal
Casing:Plastic
Made in:USA
This information only is for informational purposes only, Plaspy does not have relationship with the device's manufacturer, for more information check the
manufacturer's website
or user manual.
Set Up LMU-1000
To set the tracker send the following commands by SMS messages, the ID is the MID 10 digits replied by o3Y command
Set the operator APN
!RP,2306,0,{{apn}}
Set the APN operator username
!RP,2314,0,{{apnu}}
Set the APN operator password
!RP,2315,0,{{apnp}}
Set the GPRS server
!RP,2319,0,54.85.159.138
Set the server port
!RP,769,0,8888
Reboot the tracker
!R3,70,0
To check the settings !RO
Trackers