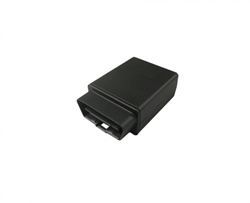 Visit the manufacturer website
CalAmp LMU-3000 is a full-featured OBD-II compatible vehicle tracking product designed for easy and reliable installation in vehicles. The CalAmp LMU-3000 is an ideal solution for automotive insurance, driver behavior management, auto rental and automotive applications when access to the vehicle diagnostics interface (OBD-II) is required.
GPS tracker technical characteristics:
Brand:CalAmp.
Model:LMU-3000.
Target Market:Track & Trace, Vehicle recovery, Fleet Management.
GSM band:Full quadband.
Voice:No.
Back up Battery:No.
Internal Memory:No.
Communication method:GPRS, UDP.
Position by:Time, Distance.
Sleep mode:Yes.
Pre-defined inputs:Ignition.
Internal events based:Yes.
Antennas:GPS internal, GSM internal.
Casing:Plastic.
Extra Connectivity:TTlL port, OBDII port.
Made in:USA.
This information only is for informational purposes only, Plaspy does not have relationship with the device's manufacturer, for more information check the
manufacturer's website
or user manual.
Set Up LMU-3000
To set the tracker send the following commands by SMS messages, the ID is the MID 10 digits replied by si9 command
Set the operator APN
!RP,2306,0,{{apn}}
Set the APN operator username
!RP,2314,0,{{apnu}}
Set the APN operator password
!RP,2315,0,{{apnp}}
Set the GPRS server
!RP,2319,0,54.85.159.138
Set the server port
!RP,769,0,8888
Reboot the tracker
!R3,70,0
To check the settings !RO
Trackers