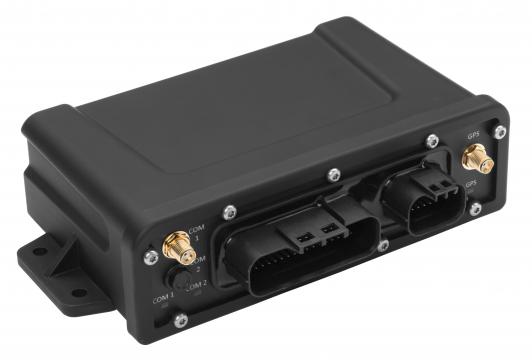 Visit the manufacturer website
CalAmp's LMU-4520 is a fully weatherproof, dual-mode, location-and-messaging device for mining and construction markets that features both satellite and cellular communications as well as connection to the vehicles ECU. It offers a full set of fleet management features, along with an IP67 environmental rating. The LMU-4520 expandability and flexibility lowers the cost of delivering, supporting, and growing fleet management solutions.
The LMU-4520 is designed to support customers with market leading fleet management features, 16G accelerometers for measuring motion, driver behavior and impact events and a multitude of interfaces such as two switched power serial ports, Mobile Data Terminal (MDT) support, and a comprehensive I/O system . The optional jPOD™ ECU (Engine Control Unit) interface reads and transmits heavy-duty engine conditions and data such as engine temperature along with fault codes providing a real-time picture of vehicle health. In addition to cellular based communications, the LMU-4520 offers optional Satellite or WiFi technologies. This expandable architecture saves upfront costs while allowing your solutions to grow with customers' changing needs.
FLEXIBILITY
The LMU-4520 employs CalAmp's industry leading on-board alert engine, PEG™ (Programmable Event Generator). This advanced engine monitors external conditions and supports customer-defined, exception-based rules to help meet the needs of your application. PEG continuously monitors the vehicle environment and responds instantaneously to pre-defined threshold conditions related to time, date, motion, location, geo-zone, input and other event combinations. With PEG, your unique application will meet demanding customer requirements. This behavior can be programmed by CalAmp before shipment, at a customer's facility, or over-the-air once the unit has been fielded.
OVER-THE-AIR SERVICEABILITY
The LMU-4520 also leverages CalAmp's industry leading over-the-air device management and maintenance system, PULS™ (Programming, Updates, and Logistics System). Configuration parameters, PEG rules, and firmware can all be updated over-the-air. PULS offers out-of-the box, hands-free configuration and automatic post-installation upgrades. You can also monitor unit health status across your customers' fleets to quickly identify issues before they become expensive problems.
This information only is for informational purposes only, Plaspy does not have relationship with the device's manufacturer, for more information check the
manufacturer's website
or user manual.
Set Up LMU-4520
To set the tracker send the following commands by SMS messages, the ID is the MID 10 digits replied by RLb command
Set the operator APN
!RP,2306,0,{{apn}}
Set the APN operator username
!RP,2314,0,{{apnu}}
Set the APN operator password
!RP,2315,0,{{apnp}}
Set the GPRS server
!RP,2319,0,54.85.159.138
Set the server port
!RP,769,0,8888
Reboot the tracker
!R3,70,0
To check the settings !RO
Trackers