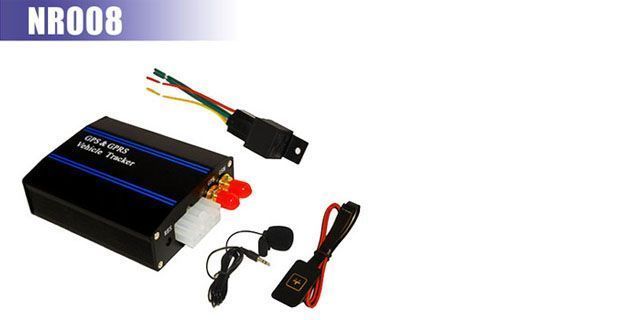 Visit the manufacturer website
Product Description
NR008 is automobile GPS tracking device, it works with our Auto GPS Tracking system perfectly.
Application:
·Fleet management
·Vehicle rental
·Anti-theft of Vehicle
BRIEF FUNCTION OF AUTOMOBILE GPS TRACKING DEVICE
1. Engine remote control: You can stop oil supply by SMS/ GPRS remotely
2. Over-speed alarm: Both software and authorized mobile number will receive alarm when target is over a specified speed. This speed limitation should be set in advance.
3. SOS Function: Alarm will be sent to software and authorized number when SOS is pressed once emergency.
4. Geo-fence
5. Movement alert: Send a movement alert to the user when it begins to move.
6. Assistant alarm: compatible with original car's anti-theft system
7. Voice monitoring: Use the authorized number to call the device, you will hear the voice in the vehicle.
8. Anti- dismantle: It will alarm when lose the power of car
Specification
· GSM Module:SIMCOM
· Frequency: 850/900/1800/1900Mhz and 2100MHz(3G)
· Max RF output : 33.0dBm±2dBm: 33.0dBm±2dB
· Dynamic input range : -15 ~ -102dBm -15 ~ -102dBm
· Frequency stabilities: >2.5ppm
· RMS Deviation: ≤5deg
· GPS chipset: SIRF Star
· Channels: 20
· Capture time: 0.1 sec., average
· Hot boot: 2 sec., average
· Warm boot: 38 sec., average
· Cold boot: 44 sec., average
· Height limit: 18000 m
· Speed limit: 515 m/s
This information only is for informational purposes only, Plaspy does not have relationship with the device's manufacturer, for more information check the
manufacturer's website
or user manual.
Set Up NR008
To set the tracker send the following commands by SMS messages, the sample setup the device password is ipywzY, this password is the default, to get the device Id, send the command to check the device status, the device Id is the first word starts with NR
Set the operator APN
AipywzY,012,{{apn}}

,{{apnu}},{{apnp}}

Set the GPRS server
AipywzY,010,54.85.159.138,8888
Switch to GPRS mode
AipywzY,011,1
To check settings AipywzY,004
Device Id, APN, server, port, GPRS status (1), GPRS connection status (1), GSM signal (1-31)
Trackers