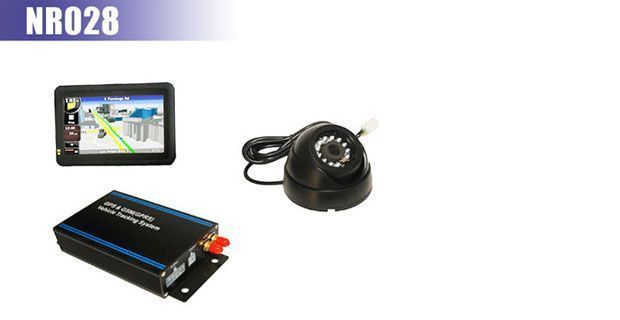 Visit the manufacturer website
Features
1. Real-time GPS satellite tracking by SMS/Internet
2. LBS (location based service) tracking
3. Listen in (voice monitoring)
4. Two-way voice/text message communication
5. Over-speed Alarm
6. Geo-fence Alarm
7. Built-in backup battery, Power cut off Alarm
8. SOS emergency Alarm
9. Remote cut off engine
10. Real time fuel monitoring
11. Digital camera, take photos
12. 3 I/O ports for vehicle status detection (Door/Bonnet/Trunk Open or Closed, Air conditioner ON/OFF…)
13. 34-byte of each position only, saving GPRS flow
14. 24/7 client tracking software access
15. 4.3/7 inch Touch Panel TFF Screen, GPS navigation
16. Support universal navigation maps, such as IGO8/Route66/Tomtom, etc.
17. Windows CE 6.0 OS, CPU: Sirf Atlas 600Mhz, 4GB memory
18. Display dispatching text messages from the control center
19. Phone call, remote parameter setting, such as GPRS, IP, APN…
20. External Fuel Sensor, two fuel sensors at most (optional)
21. Fuel Anti-theft Alarm (optional)
22. External/Internal Temperature Sensor (optional)
23. Low/high temperature Alarm (optional)
24. Internal flash memory for logging, can store 5days data (optional)
Packing
Gift package/compressed package with GPS Tracker (NR028), SOS button, Microphone, camera, navigator, connection cable, GPS antenna, GSM antenna, relay and English User manual
Many business benefits include:
·1. Locate and monitor the fleet in real time
·2. Manage and dispatch the jobs
·3. Communicate with its teams in the fieldn
·4. Being alerted to emergencies and ensuring security for their working teams.
·5. Analyse and optimise productivity.
This information only is for informational purposes only, Plaspy does not have relationship with the device's manufacturer, for more information check the
manufacturer's website
or user manual.
Set Up NR028
To set the tracker send the following commands by SMS messages, the sample setup the device password is I1LvkB, this password is the default, to get the device Id, send the command to check the device status, the device Id is the first word starts with NR
Set the operator APN
AI1LvkB,012,{{apn}}

,{{apnu}},{{apnp}}

Set the GPRS server
AI1LvkB,010,54.85.159.138,8888
Switch to GPRS mode
AI1LvkB,011,1
To check settings AI1LvkB,004
Device Id, APN, server, port, GPRS status (1), GPRS connection status (1), GSM signal (1-31)
Trackers