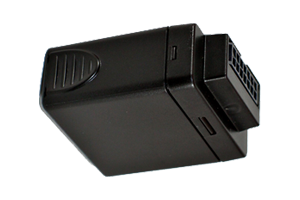 Visit the manufacturer website
The Xirgo XT-2100 contains a cellular GPRS modem with integrated GPS for mobile and remote asset monitoring and control. Most common applications are mobile resource management, aftermarket automotive, consumer solutions, and driver behavior monitoring and modification.
The XT-2100 is a fully integrated tracking device for communicating vehicle location information to owners via ubiquitous GSM/GPRS networks. With an integrated GPS engine, embedded cellular, PCS and GPS antennas, the XT-2100 is a cost effective solution for vehicle and fleet owners to monitor the location, speed and the direction of their vehicles. It provides two all-purpose digital inputs and one internal analog input used to monitor battery voltage. In addition to multiple inputs, the XT-2100 provides a digital output that can drive ignition relays. The optional external GPS connector is for instances where higher GPS sensitivity is required. With its compact design, it can be covertly in-stalled in tight locations. The XT-2100 is a quad band GSM/GPRS modem which can be used in virtually any country where a GSM network is available. With its highly mature firmware, it supports TCP, UDP, FTP and is capable of firmware update and configuration over-the-air.
Mobile and Remote Asset Monitoring and Control:
Fully integrated tracking device in a small package.
Applications:
Mobile Resource Management.
Aftermarket Automotive.
Consumer Solutions.
Driver Behavior Monitoring and Modification.
Key Features:
Embedded cellular and GPS antennas.
Integrated high-precision GPS engine.
Supports TCP, UDP, FTP.
Extensive Inputs and Outputs.
This information only is for informational purposes only, Plaspy does not have relationship with the device's manufacturer, for more information check the
manufacturer's website
or user manual.
Set Up XT-2100
To set the tracker send the following commands by SMS messages
Set the operator APN
+XT:1002,{{apnu}},{{apnp}},{{apn}}
Set the GPRS server
+XT:1001,8888,54.85.159.138,4,0,0
Trackers