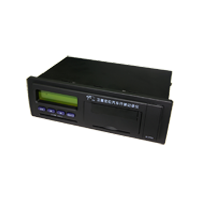 Visit the manufacturer website
MPIP-618W-YB vehicle travelling data recorder can do effective real-time tracking and monitoring the vehicle location, speed, alert and various state by uploading vehicle location, running speed, alert information (for example: speeding, fatigue driving, emergency alert) to real-time monitoring center via wireless telecommunication network.​
Real-time tracking.
Supported communication method: GPRS/SMS.
Traveling Record Function.
Driving behavior analysis.
Low voltage of terminal main power supply alert.
Abnormal fuel consumption alert.
Illegal vehicle ignition alert and illegal door opening alert.
Remote power or oil cut-off/supply and remote recording.
SOS alert and SMS alert.
Blind area store/resend.
Mileage statistics.
Local maintenance functions.
Overspeed alert.
Fatigue driving alert.
Multi-media and Information Capture.
Voice mornitoring and TTS.
Logistics Vehicles, Engineering Vehicles, Dangerous Goods Vehicles, Taxi Rental, Public Transportation Vehicle.​
 Dimension: 188mm*100mm*60mm
* Weight: 620g                   
* Protective leverage: Aluminum alloy

* Operation voltage : 9-36 VDC                                                                                          

* Working temperature: -30℃ to 70℃

* Working Current: <10013.8V

* GPS Location Accuracy:<15m  

* GPS Speed Accuracy: 0.1m/s      

* GPS Frequency: 1575.42MHz     

* Storage Temperature: -40℃~ +85℃     

* Relative Humidity: 5% ~ 95%(No Frost)     

* Backup Battery: 3.7V /500 Li-ion battery

* GPS Acquisition Time: Cold Start<38s, Warm Start<25s, Hot Start<1s.
This information only is for informational purposes only, Plaspy does not have relationship with the device's manufacturer, for more information check the
manufacturer's website
or user manual.
Set Up MPIP-618W-YB
To set the tracker send the following commands by SMS messages, The default secret key for SMS instructions is the last 6 ASCII characters of device ID
Type the tracker password
Set the APN settings and server IP
*{{SecretKey}}#set gprs#{{apn}},{{apnu}},{{apnp}},54.85.159.138,8888*
To check the settings
*{{SecretKey}}#get gprs#*
Trackers