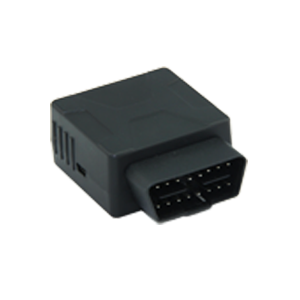 Visit the manufacturer website
IDD-213GL is an intelligent on-board diagnostic device compatible with passenger and commercial vehicles, it features plug-and-play technology, could read diagnostic info from vehicle ECU and capture location data, then send them to backend server for real-time remote diagnostic and tracking purpose.​
Industrial class components with high quality
OBD II/EOBD, J1939 and J1708 compliant
Plug&Play technology
Comprehensive data collection and analysis, including diagnostic data, location data and driving behavior data
Real-time tracking
Read diagnostic data, including vehicle speed, RPM, ECT etc.
Read diagnostic trouble codes and freeze frame data
Mileage statistic
Fuel consumption statistic
Driving behavior monitoring, including speeding, hard acceleration/deceleration, idle engine etc.
Support passenger car / heavy duty / tracker mode
Up to 24,000 GPS data storage
Data reporting according to time interval, distance and heading change
Ignition on/off detection
Vehicle battery monitor
Base station ID report (when no GPS signal)
Internal battery for unplug notification​
Fleet management, Service shop / Car dealer, Insurance company.​
 Dimension: 63mm*48mm*28mm
       Weight: 50g

      Working Voltage: 9-36VDC

       Max.: <200mA@13.8/27.6VDC

      Average: <150mA@13.8/27.6VDC

       Sleep mode: <10mA@12/24VDC

      Backup battery: 3.7V/160mAH

       Working Temperature: -30℃ to 70℃

      Storage Temperature: -40℃ to 85℃

       Humidity: 5%~95%(no frog)

      Frequency: 850/900/1800/1900MHz

       Network protocol: Embedded TCP/IP stack

      GPS channels: 50 parallel channels

       Positioning method: GPS/A-GPS
      Cold start: <32s (typ.)

       Warm start: <32s (typ.)

      Hot start: <1s (typ.)
       Data transmission: GPRS/SMS

    GPS Accuracy: 5m CEP
This information only is for informational purposes only, Plaspy does not have relationship with the device's manufacturer, for more information check the
manufacturer's website
or user manual.
Set Up IDD-213GL
To set the tracker send the following commands by SMS messages, The default secret key for SMS instructions is the last 6 ASCII characters of device ID
Type the tracker password
Set the APN settings and server IP
*{{SecretKey}}#set gprs#{{apn}},{{apnu}},{{apnp}},54.85.159.138,8888*
To check the settings
*{{SecretKey}}#get gprs#*
Trackers