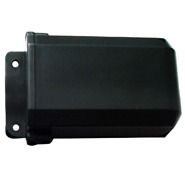 Visit the manufacturer website
GPS motorcycle tracker,XT-009 GPS / GSM tracking device is a built-in GPS and GSM / GPRS module remote location equipment for vehicles. It is  a small, precision 
high, remote location tracking device. Based on the Global Positioning System satellites, under dynamic conditions it provides accurate positioning information,personal remote positioning 
It transmits the longitude and latitude coordinate to authorized cell phone, sends data through the GPRS channel to the service platform for real-time tracking.detail information,
1.Waterproof IP67
2.Build in GSM/GSM antenna, as small as our TK102, easy to hide to motorcycle. 
3. DC6~36V car/motorcycle battery supported
4.cellent for fixing the position even at a weak signal status.
5.Very Low power consumption, long time battery life (120hours )
6.Fast Signal Acquisition
7.Support single location and continuous tracking
8.Support speed alarm/movement alarm/low battery alarm 
9.Can be set up 5 authorized mobile number
10.Support check location by SMS and Internet
11.Locate the position by mobile phone via SMS
12.SOS button send out exact location for immediate rescue/action.
13.SD card save gprs data
14.Build in Montion sensor. send shake alarm when someone touch tracker .
15.Main power cut/ lost alarm
16.Distance limited data transmition 
17.Remote cut-off electricity &oil function
18.ACC start/ ACC off alert 
This information only is for informational purposes only, Plaspy does not have relationship with the device's manufacturer, for more information check the
manufacturer's website
or user manual.
Set Up XT009
To set the tracker send the following commands by SMS messages, the sample setup the device password is 9yF2f2, this password is the default
Restore factory settings
begin9yF2f2
Set the operator APN
apn9yF2f2 {{apn}}
Set the APN username
apnuser9yF2f2 {{apnu}}

Set the APN password
apnpasswd9yF2f2 {{apnp}}
Set the GPRS server
adminip9yF2f2 54.85.159.138 8888
Set the GPRS mode
gprsmode9yF2f2
Set the update interval 60 seconds
t060s***n9yF2f2
Trackers