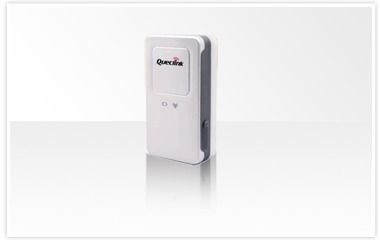 Visit the manufacturer website
GL100 is a powerful GPS Tracker designed for vehicle, pet and asset tracking. With superior receive sensitivity, fast TTFF (Time To First Fix) and Quad-band GSM frequencies 850/900/1800/1900, its location can be monitored or periodically reported to a backend server or other device. Based on the embedded @Track protocol, the GL100 can communicate with the backend server through the GPRS/GSM network (or SMS) to report emergency alerts, Geo-fence boundary crossings, low battery and scheduled GPS positions along with several other advanced reporting features. System Integrators can easily setup their custom tracking platforms to communicate with the GL100 based on the @Track protocol.
Features: 
Water resistant

Built in SIRF Star III chipset which has -158 dBm tracking sensitivity and -142 dBm autonomous sensitivity. Fast TTFF and high accuracy

White OLED display (128*96)

Low power consumption, Long standby time

Built in 3D motion sensor

Embedded full-featured @Track protocol

Certified with PTCRB FCC CE
This information only is for informational purposes only, Plaspy does not have relationship with the device's manufacturer, for more information check the
manufacturer's website
or user manual.
Set Up GL100M
To set the tracker send the following commands by SMS messages, the sample setup the device password is dBoYUUa9, this password is the default
Restore factory settings
AT+GTRTO=dBoYUUa9,4,,,,,,FFFF$
Set the time zone UTC-0
AT+GTTMA=dBoYUUa9,+,0,0,0,,,,,,FFFF$
Set the operator APN
AT+GTBSI=dBoYUUa9,{{apn}},{{apnu}},{{apnp}},,,,,FFFF$
Set the GPRS server
AT+GTSRI=dBoYUUa9,4,,1,d.plaspy.com,8888,54.85.159.138,8888,,0,0,0,,,,FFFF$
Set the update interval 60 seconds.
AT+GTFRI=dBoYUUa9,1,1,0,0,,,60,60,60,60,7F,40,0,,,FFFF$
Enable SOS button notification input 2
AT+GTSOS=dBoYUUa9,2,2,,0,0,0,0,0,0,,,FFFF$
Trackers