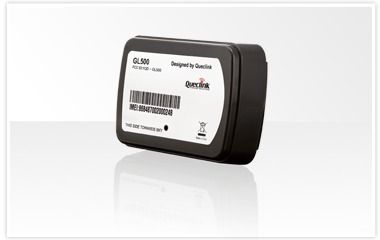 Visit the manufacturer website
The GL500 is a powerful GPS tracker designed for fixed asset tracking applications. It is powered by two user replaceable CR123A lithium batteries. Configuration allows it to wake up on a preset schedule to check if it needs to shift from dormant to active status and/or send update of its current location, then returning to a dormant state. Optimally configured, it will operate autonomously for 1000 days. Its built-in 3-axis accelerometer allows the GL500 to detect asset movement and transmit an alert message. The integrated @Track interface protocol allows the GL500 to communicate with a customer mobile phone or a backend server via GPRS/SMS and transfer reports of GPS position, etc. System integrators can easily incorporate the GL500 into existing tracking systems based on this full featured protocol.
Features: 
Low power consumption, long standby time for more than 1000 days

Powered by two user replaceable lithium batteries (CR123A)

Internal u-blox chipset

Quad band GSM/GPRS 850/900/1800/1900 MHz

Embedded @Track protocol

Internal 3-axis accelerometer for motion detection

Internal GSM antenna

Internal GPS antenna

Internal microphone (optional)

CE/FCC certified
This information only is for informational purposes only, Plaspy does not have relationship with the device's manufacturer, for more information check the
manufacturer's website
or user manual.
Set Up GL500
To set the tracker send the following commands by SMS messages, the sample setup the device password is TJJHEKYl, this password is the default
Restore factory settings
AT+GTRTO=TJJHEKYl,4,,,,,,FFFF$
Set the time zone UTC-0
AT+GTTMA=TJJHEKYl,+,0,0,0,,,,,,FFFF$
Set the operator APN
AT+GTBSI=TJJHEKYl,{{apn}},{{apnu}},{{apnp}},,,,,FFFF$
Set the GPRS server
AT+GTSRI=TJJHEKYl,4,,1,d.plaspy.com,8888,54.85.159.138,8888,,0,0,0,,,,FFFF$
Set the update interval 60 seconds.
AT+GTFRI=TJJHEKYl,1,1,0,0,,,60,60,60,60,7F,40,0,,,FFFF$
Enable SOS button notification input 2
AT+GTSOS=TJJHEKYl,2,2,,0,0,0,0,0,0,,,FFFF$
Trackers