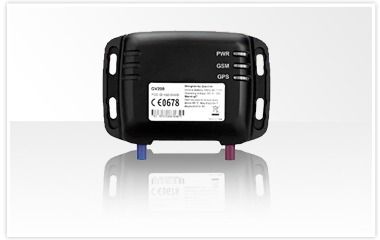 Visit the manufacturer website
The GV200 is a full featured GPS tracker designed for a wide variety of vehicle tracking applications. It has multiple I/O interfaces that can be used for monitoring or controlling external devices. It is supported by a wide variety of accessories. Its built-in GPS receiver has superior sensitivity and fast time to first fix. Its quad band GPRS/GSM subsystem supports 850/900/1800/1900 MHz allowing the GV200's location to be monitored in real time or periodically tracked by a backend server and mobile devices. Its built-in 3-axis accelerometer allows towing detection. System integration is straightforward as complete documentation is provided for the full featured @Track protocol. The @Track protocol supports a wide variety of reports including emergency, geo-fence boundary crossings, low battery and scheduled GPS position.

Features: 
Wide operating voltage range 8V to 32V DC

Internal u-blox chipset

Low power consumption, long standby time with internal battery

Quad band GSM/GPRS 850/900/1800/1900 MHz

Embedded full featured @Track protocol

Multiple I/O interfaces for monitoring and control

Internal 3-axis accelerometer for power conservation and motion detection

Three analog inputs for external sensor

Internal and optional external GSM antenna

Internal and optional external GPS antenna

CE/E-Mark certified
This information only is for informational purposes only, Plaspy does not have relationship with the device's manufacturer, for more information check the
manufacturer's website
or user manual.
Set Up GV200
To set the tracker send the following commands by SMS messages, the sample setup the device password is 8QyFbs08, this password is the default
Restore factory settings
AT+GTRTO=8QyFbs08,4,,,,,,FFFF$
Set the time zone UTC-0
AT+GTTMA=8QyFbs08,+,0,0,0,,,,,,FFFF$
Set the operator APN
AT+GTBSI=8QyFbs08,{{apn}},{{apnu}},{{apnp}},,,,,FFFF$
Set the GPRS server
AT+GTSRI=8QyFbs08,4,,1,d.plaspy.com,8888,54.85.159.138,8888,,0,0,0,,,,FFFF$
Set the update interval 60 seconds.
AT+GTFRI=8QyFbs08,1,1,0,0,,,60,60,60,60,7F,40,0,,,FFFF$
Enable SOS button notification input 2
AT+GTSOS=8QyFbs08,2,2,,0,0,0,0,0,0,,,FFFF$
Trackers