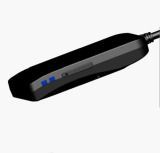 Visit the manufacturer website
1. The popular GPS Vehicle Tracker TLT-3A is the latest product, applicable to kinds of vehicles, such as :automobile, motorcycle, electric cars .
2. Basic functions: real-time tracking and speed upload ,Geo-fence, parking automatic protection, Fuel shutoff , auxiliary tracking of base station.
3.Supporting GSM850/900/1800/1900 MHZ,  thus it can work throughout the world..
4. With  high stability GPS chipset of philips and overall upgrade GPS .
5. With high sensitive G-SENSOR to test vehicles state, all-round track your nice car .
This information only is for informational purposes only, Plaspy does not have relationship with the device's manufacturer, for more information check the
manufacturer's website
or user manual.
Set Up TLT-3A
To set the tracker send the following commands by SMS messages, the sample setup the device password is U7Cw, this password is the default
Factory reset
*RESET#U7Cw##
Set the operator APN
#803#U7Cw#{{apn}}#

{{apnu}}#{{apnp}}#

#

Set the GPRS server
#804#U7Cw#54.85.159.138#8888##
Set the update interval moving 60 seconds
#805#U7Cw#120#1##
Set the update interval static 60 seconds
#809#U7Cw#120#1##
Enable GPRS mode
71U7Cw0
Enable GPS mode
222U7Cw
Trackers