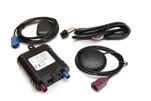 Visit the manufacturer website
Ultra sensitive GPS engine and quad-band support
With over 600,000 units in operation globally, the TT8750 is the reliable GPS tracking device you can count on. The TT8750 supports power configurations between 7 and 40 volts making it an ideal, cost effective and highly customizable, solution for cars or heavy duty vehicles.
Features
Embedded Tracking Intelligence
Supports Quad Band GSM Voice/SMS/GPRS/TCP/UDP
Ultra Sensitive GPS Engine (up to -160dBI)
Low Cost Messaging Airtime Configuration
Easy Connect Automotive Grade Antennas
Key Specs
Housing:  Rugged plastic
Ignition Sensing: Yes
Connector:  FAKRA
I/O Connectors

8-pin Molex
2 GPIOs
1 Output

Antenna:  3.3 V Active
Battery:  Rechargeable Lithium Ion
GSM SMS:  Text, PDU, MO/MT, Cell Broadcast
GPS Protocols:  NMEA, Binary
Buffered GPS message feature:  Yes
SIM Access:  External
Over-the Air-Commands:  12 commands including binary reporting, alarm reporting, geo-fencing and virtual odometer
This information only is for informational purposes only, Plaspy does not have relationship with the device's manufacturer, for more information check the
manufacturer's website
or user manual.
Set Up TT 8750
qrLBeGrW
f2kDaggZ
SEPSRfGUv42DogWtKE4LeNUMMCBLnlWFWx8PrX37fXK5eX5
NBGptOSdtM7CX6IQsRtUTVXB5QnFWVsd1d84J92quL
p6auRBbFRduvv4kTBz07KcouY3axhcbILHde4wT
n43zOlzsaUZtPG9
4GQqjLNwrInCi
6G0EE qVdTuT
rWjIDXZRmMhx
f5Ki3XOJPtk04ypwvSJ
RIqIquuwd9fhG5Qj3SCf3pG04x
mHHvFsKLmKgEkR34ehrNSpXXbl
fqEBvRGdwH Xv 5X3CD k
oyVadaEy3R9dLe5A9GV
r2D6V9Qb7YSTJaiLjnGFVyoJylu
3GRhivv3RorA9DMhZCgxJ2hvAII
2CXTt4MBxU dc HR40c B
vAiIlZCXJ9UHctLK7AU
aFzXCsj72Zf9bCHXYKdRsz0jaRZ
DPR1rLF9usuW1P9Svg8tQbmzc6H
IBvP682U NvY4xdd3Yj
2KcOE9F3UCk98DsPlQY
h8mGB42GPePG5J26J6INMaShXCE
8jpd8UhOetm5Rz0BEtnma0pQ1nL
Fnvd kZ3WooR AOyefSeWWkOfc
o7QKXuAoinoRwD2uZyCM
OMMLKSS3c49LeajbLJY7RH7SMra
m6Md 1qhCc6y 3KqpzUwZB9
zP6euJ88MvG0unHwwVd7
7BENoI5kaTXAObiQg8iFW5ZqRyFz
7gY2OguE uijfALYr4T
H953OgCWBgKWvDVfkxb
D3Mhzhck4whibczcgzdbmpNjMKH3
BzBi140UQtKup1oN2gyA1KInr7J4
4xtWahxpD JJ
mJooZWqHfINonz7oHMj
RG0zoVrvmktnDyDkUgls7BXt50r
B9vi8ZrRx 2gZ
A3UFg5nuuJ3RFDqvxeE
hWVKqBx4qtYRFLh0LtcvxhakYej
jcf5oQUkS
5YpE2Yqe
sQZ97Z5O

Trackers