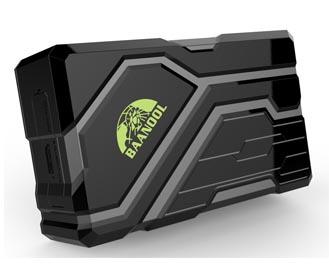 Visit the manufacturer website
This product can locate accurately and be used in guarding Vehicle against theft, Protecting child / Elderly / disabled / pet, Managing personnel and Tracking criminals secretly.
Details:
Working Based on existing GSM/GPRS(850/900/1800/1900MHZ)network and GPS satellites, this product can locate and monitor any remote targets by SMS or Computer or PDA.
Function:
Add and Delete Authorized phone number
Single tracking
Auto track continuously
Exact street address
SIM card Balance Inquiry
Decide how many times of alarm message
Low battery alarm
Geo-fence
Movement alarm
Over speed alarm
Shock sensor Alarm
Sleep mode
Check the status
GPRS configuration
Content

Specs

Dim

106mm x 63mm x 37.5mm

GSM Frequency

4 band 850/900/1800/1900Mhz

GPS Sensitivity

-165dBm

GPS accuracy

5m

GPS start time

Cold status 45s Warm status 30s Hot status 1s

Multi track ways

GPS+LBS+ Three - axis sensor

Li-ion battery

3.7V 10000mAh

Waterproof rate

IP67

Standby

Stand by 6 months if works under "sleep by time"

Stand by 6.9 years if works under "schdule mode"
This information only is for informational purposes only, Plaspy does not have relationship with the device's manufacturer, for more information check the
manufacturer's website
or user manual.
Set Up GPS108
To set the tracker send the following commands by SMS messages, the sample setup the device password is RACes3, this password is the default
Factory reset
beginRACes3
Set the time zone UTC-0
time zoneRACes3 0
Set the operator APN
apnRACes3 {{apn}}
Set the username and password of APN operator
upRACes3 {{apnu}} {{apnp}}
Set the GPRS Server
adminipRACes3 54.85.159.138 8888
Set update interval
fix060s060s***nRACes3
Switch to GPRS mode to UDP or TCP
jKPNp6ooLn,1,1
or
jKPNp6ooLn
To check settings checkRACes3
To enable the status of the fuel sensor or improve the transmission of the status of the digital sensors protocolRACes3 18
Trackers