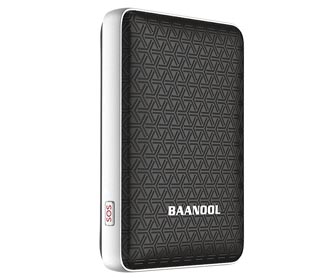 Visit the manufacturer website
This product can locate accurately and be used in guarding Vehicle against theft, Protecting child / Elderly / disabled / pet, Managing personnel and Tracking criminals secretly.
Details:
Working Based on existing GSM/GPRS(850/900/1800/1900MHZ)network and GPS satellites, this product can locate and monitor any remote targets by SMS or Computer or PDA.
DIM:
68.3X48.3X16mm
GSM Frequency:
4 band 850/900/1800/1900
GPS sensitivity:
-159dBm
Battery:
3.7V 1000mAh
Standby:
22 days in sleep by time mode, and 9.9 months if in schedule mode
Feature:
Long standby time
Easy to carry
Suitable for tracking the valuable things like luggage case, etc,

and records rolling over of the luggage case for compensation if any damages.
Function:
ime tracking
Low battery alert
Geo-fence
SOS
Records rolling over
This information only is for informational purposes only, Plaspy does not have relationship with the device's manufacturer, for more information check the
manufacturer's website
or user manual.
Set Up GPS310
To set the tracker send the following commands by SMS messages, the sample setup the device password is MEVCPR, this password is the default
Factory reset
beginMEVCPR
Set the time zone UTC-0
time zoneMEVCPR 0
Set the operator APN
apnMEVCPR {{apn}}
Set the username and password of APN operator
upMEVCPR {{apnu}} {{apnp}}
Set the GPRS Server
adminipMEVCPR 54.85.159.138 8888
Set update interval
fix060s060s***nMEVCPR
Switch to GPRS mode to UDP or TCP
tpbnRouFRq,1,1
or
tpbnRouFRq
To check settings checkMEVCPR
To enable the status of the fuel sensor or improve the transmission of the status of the digital sensors protocolMEVCPR 18
Trackers