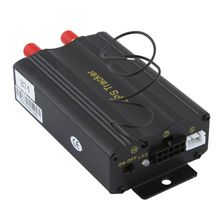 Visit the manufacturer website
GPS Tracker,which set multiple functions of accurately positioning,security, monitoring surveillance, emergency alarms and tracking in its entirety,special for vehicle.
The product fully supports the functions of SMS / GPRS / Internet data transmission,to make it more widely used in large-scale monitoring, emergency scheduling, location-based services, traffic safety and many other areas of management.
Detailed description:
It is based on GSM/GPRS(850/900/1800/1900MHZ)wireless telecommunication internet and GPS satillite global position system,track by several ways.provide monitor software and global map.real-time track through the monitor software in your pc;track through your PDA cell phone and googleearth.
Following features added on the basis of 103-A/B:
-Dual simcard
-Fuel sensor [ Option ]
-Lock and unlock door[option]
Basic functions:
GPS + Location based service(LBS)
Real time tracking via SMS or GPRS (TCP/UDP)
Track on demand by calling or sms comamnd
Show location directly on mobile phone with HTTP google map link
Track by time and distance interval
Five authorized phone number to protect tracker information and assets
Voice Surveillance
Easy switch for track or Monitor
Low battery alarm
Power off alarm
SOS button for emergency
Geo fencing control
Overspeed Alarm
Engine -cut and restore alarm by SMS GPRS
Door, windows alarm get by SMS
Movement alert sensor
Free GPRS tracking software send you in CD package
With direction and heading value
Optional shock/impact sensor
Abosolute street function
Smart track upon time and distance interval
Automatic update positions of vehicle turns
GPS drift suppression
Data logging
Forward third parties message to authorized phone number
charge inquiry
Multi area management
Accident alarm(Option)
ACC working alarm
Configure parameters by USB
Less GPRS traffic
GPS blind spot alarm
Dual simcard
Fuel sensor(option)
Lock and unlock(option)
Sleep mode fuction
This information only is for informational purposes only, Plaspy does not have relationship with the device's manufacturer, for more information check the
manufacturer's website
or user manual.
Set Up TK103B
To set the tracker send the following commands by SMS messages, the sample setup the device password is nhqmt8, this password is the default
Factory reset
beginnhqmt8
Set the time zone UTC-0
time zonenhqmt8 0
Set the operator APN
apnnhqmt8 {{apn}}
Set the username and password of APN operator
upnhqmt8 {{apnu}} {{apnp}}
Set the GPRS Server
adminipnhqmt8 54.85.159.138 8888
Set update interval
fix060s060s***nnhqmt8
Switch to GPRS mode to UDP or TCP
oBdoJxCmVj,1,1
or
oBdoJxCmVj
To check settings checknhqmt8
To enable the status of the fuel sensor or improve the transmission of the status of the digital sensors protocolnhqmt8 18
Trackers