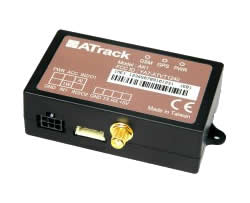 Visit the manufacturer website
ATrack AK1 is a GPS vehicle tracker with GPS and GSM/GPRS communication for location and remote control via GSM/GPRS network. ATrack AK1 supports Garmin, allows FOTA firmware update via FTP and is able to detect the GSM jamming. AK1 its intelligent event control engine, users can define various combinations of events.
GPS tracker technical characteristics:
Brand:ATrack
Model:AK1
Target Market:Track & Trace, Vehicle recovery, Fleet Management, Telematics, 2-way messages w/drivers
GSM band:Full quadband
Voice:No
Back up Battery:Yes
Internal Memory:Yes
Communication method:GSM, GPRS
Position by:Time, Distance, Angle change
Sleep mode:Yes
Digital Inputs:>4
Pre-defined inputs:Ignition, Panic, Doors
Analogue Inputs:1
Internal events based:Yes
Antennas:GPS, GSM internal
Casing:Plastic
Extra Connectivity:Fix antennas, Fuel Sensors, Garmin FMI, Driver ID, 1-wire
Can Bus:No
Made in:Taiwan
This information only is for informational purposes only, Plaspy does not have relationship with the device's manufacturer, for more information check the
manufacturer's website
or user manual.
Set Up AK1
To set ubvmYX you need to configure as follows. With the following script
Set ACC event
i3cpXxA0nPR
MJ6GoxYV9rNDBTl4OOXLpfptjTjp
0AsE9b4ok9wRz3ydaLye4oWvwB6z
WaaRdFfNwoWBR
Set time interval to 60 seconds
2EXzCMnKzguGxOrmXj
Set to binary mode
QjNhKoBTWImHkKST5
Set the GPRS server
Q6Mwab0JSa5iWRdugqAIKRJumxHKNGre3d1yBU9LcxyVzsLtGAaRL9M71zP76wPIoq5f6JuUq
To check device status
iD9KeeJ4x
Trackers