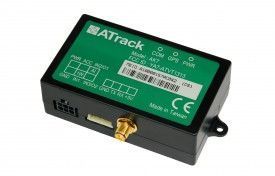 Visit the manufacturer website
ATrack AX7 GPS vehicle tracker with OBDII port connection to the vehicle.AX7 reduces installation costs in your fleet or vehicle, since the device connected directly to the vehicle OBDII port. The aim of the market is ATrack AX7 fleet control, vehicle tracking or car rental.
GPS tracker technical characteristics:
Brand:ATrack
Model:AX7
Target Market:Track & Trace, Vehicle recovery, Fleet Management, Telematics
GSM band:Full quadband
Voice:No
Back up Battery:Yes
Internal Memory:Yes
Communication method:TCP, UDP
Position by:Time, Distance
Sleep mode:Yes
Digital Inputs:No
Pre-defined inputs:Panic
Analogue Inputs:No
Internal events based:Yes
Antennas:GPS internal, GSM internal
Casing:Plastic
Extra Connectivity:USB port, OBDII port
Can Bus:No
Made in:Taiwan
This information only is for informational purposes only, Plaspy does not have relationship with the device's manufacturer, for more information check the
manufacturer's website
or user manual.
Set Up AX7
To set ce3Dbw you need to configure as follows. With the following script
Set ACC event
LcfvUKM14db
VnSAyZdijgmzins2BxGCYM2amUD1
87VgIJ4Z8Bn62TS7mtbw8Nl5n0xB
iCrN7jghS1OkV
Set time interval to 60 seconds
Yp50Hm6QWfIxnrLB99
Set to binary mode
oeXLStfu8y1IdXAz8
Set the GPRS server
3qfdzc74PXxiA4vXwg893A9I1uKWKDor27K3nG5RIoSq9ojDe5voqHOMz5dSgyzjOl5Q3bNih
To check device status
5v5ofQBn5
Trackers