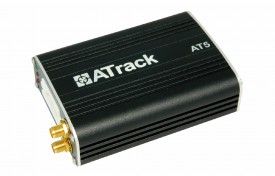 Visit the manufacturer website
The ATrack AT5i is a versatile multifunctional tracking device, providing you with the most reliable up to date tracing information of your vehicle's current position or movement status via GPRS network. Furthermore, vehicle tracking can also be combined with a variety of customized events based on your needs. In addition, the AT5i GPS/GLONASS vehicle tracker supports a wide range of hardware applications as it features multiple Digital and Analog I/O ports.
Available in:
GPS only version.
GPS/GLONASS version (Process simultaneously).
Features:
AES-128 data encryption.
Data communication via SMS/USSD/GPRS(TCP/UDP).
GPS antenna tamper detection & report.
Built-in 3-axis G-sensor.
Vehicle Speed Sensor (VSS) supported.
Firmware over the air (FOTA) upgrade via the FTP protocol.
Configurable Real Time Tracking & Logging.
64 user defined geo-fences in circular, rectangular and polygonal shapes.
Roaming preference settings.
Harsh driving behavior events.
Configurable power management.
Max. 140,000 log and 21,000 queue messages.
2 way voice communication & wire-tap.
1-Wire® iButton® for driver identification.
1-Wire® temperature sensor supported.
Support Garmin® FMI 2.0 and above.
Intelligent event control engine.
This information only is for informational purposes only, Plaspy does not have relationship with the device's manufacturer, for more information check the
manufacturer's website
or user manual.
Set Up AT5i
To set x8dWdY you need to configure as follows. With the following script
Set ACC event
bWZ9oibwha8
8NKmVBFcgTcuEJL2JByv5OHn7qhv
nJdkwBBMRmr504MPyN5H0oHFXfAD
hMFSRaKFalKwJ
Set time interval to 60 seconds
LrHe6DGzUxE0YO7S9x
Set to binary mode
1lglL5tm7UFZphXUk
Set the GPRS server
eDQHgSF96ChoiUj55h9OVQJCRWjcmuhB1UVixELpduT3ejLELdlaQK6PJvWELqOvZ2uGGGSo4
To check device status
IbYXr8Tap
Trackers