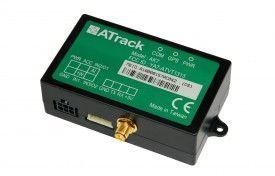 Visit the manufacturer website
AK7 is a vehicle Telematics device/GPS tracker with GPS and UMTS/HSPA/CDMA communication which is able to monitor vehicle location and remote control via UMTS/HSPA/CDMA network. With its intelligent event control engine, users can define various combinations of vehicle conditions and generate various actions to meet their unique requirements.
Features:
Small and easy installation.
Data communication by SMS/USSD/TCP/UDP.
High accuracy GPS positioning.
GSM jamming detection.
Built-in 3-axis G-sensor.
FOTA firmware upgrade using FTP.
Configurable Real Time Tracking & Logging.
Intelligent event control engine.
1-Wire® protocol supported.
3 Configurable GPIOs.
Roaming preference settings.
Harsh driving behavior events.
Configurable power management.
32 user defined geofences.
Support Garmin® FMI.
Support external fuel level sensor.
This information only is for informational purposes only, Plaspy does not have relationship with the device's manufacturer, for more information check the
manufacturer's website
or user manual.
Set Up AK7
To set vB6EeE you need to configure as follows. With the following script
Set ACC event
4L5bzjswORU
ipr878Ccl619Dz165KJ8AExpTBcB
vTv47eEQceKvK3UJXsk280J9WjLq
U2hbv7Zu1PPXN
Set time interval to 60 seconds
ZslKUwDCwzfmg5GM8P
Set to binary mode
WUfIWTSh9b05tMVLi
Set the GPRS server
QCZM83iFoWaEtMxmmamXQjlLlheEHQu2L5OPPZzdMgEtdYWsEaMXqSpRQEqlTOcXkQ7H42oqA
To check device status
0SEQ96PG0
Trackers